4 Common Beer Label Problems (and How To Solve Them)
…making the industry extremely competitive. It is undoubtedly causing a demand for custom craft beer labels. So make a great first impression on shoppers and start customizing your beer label today.
First and foremost, there's one thing all beers have: they all have custom bottle labels. Your label choice and design will no doubt help your local craft beer stand out to the consumer's eye. However, in this industry, several challenges are faced. Today we'll discuss four problems companies face when customizing their beer labels and overcoming those challenges.
Problem One: I have a variety of seasonal flavored beers; will this affect my label ordering?
First, the most important thing to remember is when you are working with Sticker Mountain, you'll always have the best quality beer labels and stickers. 
Secondly, many breweries offer various beer flavors and various seasonal beer flavors. For example, promoting a tasty summer lager infused with fresh lime with a customized label displaying bright greens and yellows to quench a hot summer thirst. On the other hand there's labels with rich copper tones, deep reds, and smooth gold to represent your newest fall Pumpkin Spice IPA.
So, the problem is how do you print many different labels and stay organized? How can you make it financially affordable?
That is no challenge because we have state-of-the-art digital printing presses at Sticker Mountain that make changing label designs, shapes, sizes, or lettering extremely easy! 
Along with convenience, digital printing presses allow for those changes to be affordable for your company's budget when printing custom beer or craft bottle labels. 
Problem Two: Will the beer labels stick through hot and cold temperatures?
It is important to remember that the first thing consumers look at on a beer can or bottle is the label. They may be looking at it for various reasons, and if your beer label is cheaply printed and already peeling off with the slightest condensation, they won't be able to see what they're looking for and put your product back. 
For example, if you are having a retirement party at your house, camping, or storing your tasty beer in cold temperatures, your beer label must stick to the can or bottle. If your craft beer label fails to stick, or the label is scratching off, most customers won't buy your beer next time because it's a sign of poor quality. 
Therefore, pay attention to the type of label material you choose for your custom beer label. In addition to knowing what material to use, it is also essential not to skimp on your budget. An excellent beer label will sell a terrific product. 
Sticker Mountain uses only the highest-quality materials because your success is our happiness. Our materials are incredibly durable for many products. 
Personalized beer labels are put to the test when it comes to durability. Our materials can withstand freezing temperatures, are waterproof, and oilproof. Our custom beer or craft beer labels can be tossed in the dirt and thrown into freezing water, and they will not budge off your beer can or beer bottle.
Problem Three: What if my Beer Bottle needs Two Labels?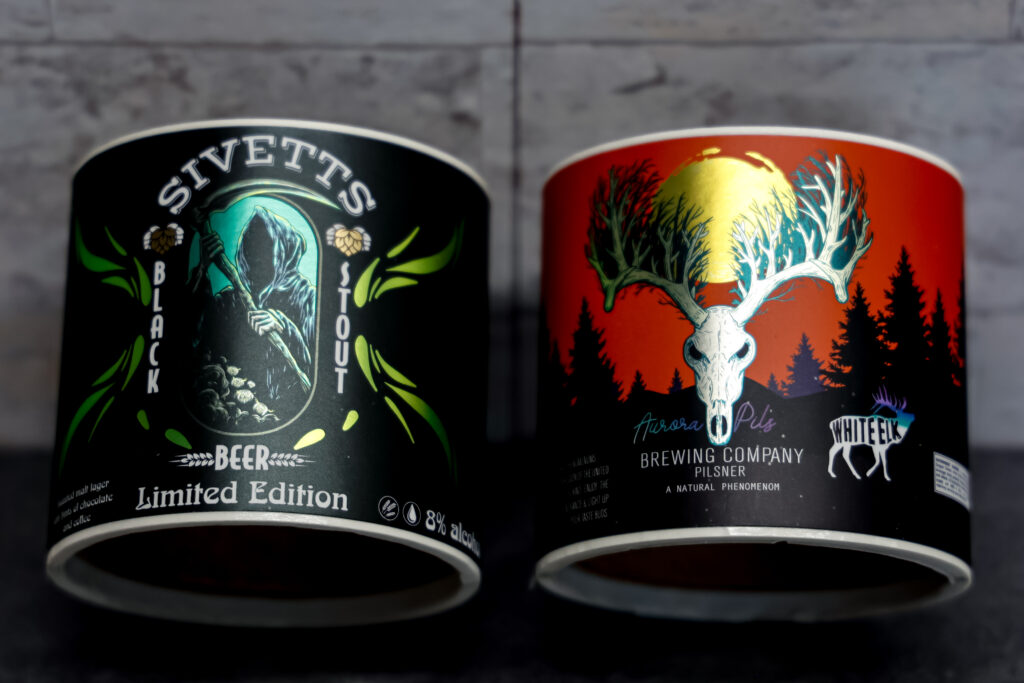 This is a great question; even though most beer bottles have one label, some have two. Some beers have wrap labels on the front of the bottle and one that would go onto the neck of the bottle. An example would be the brewery logo on the neck, and a more prominent label for the beer design will be on the bottom. Beer bottles and cans will allow many different types of label designs. 
As mentioned before, Sticker Mountain has top-of-the-line digital printing presses. Digital printing allows quick corrections to be made to current orders and makes adding another beer label printing design to your order faster. However, the choice is yours. Add multiple custom labels to your beer can or bottle and whether it fits your business budget. 
Problem Four: Sticking to a Budget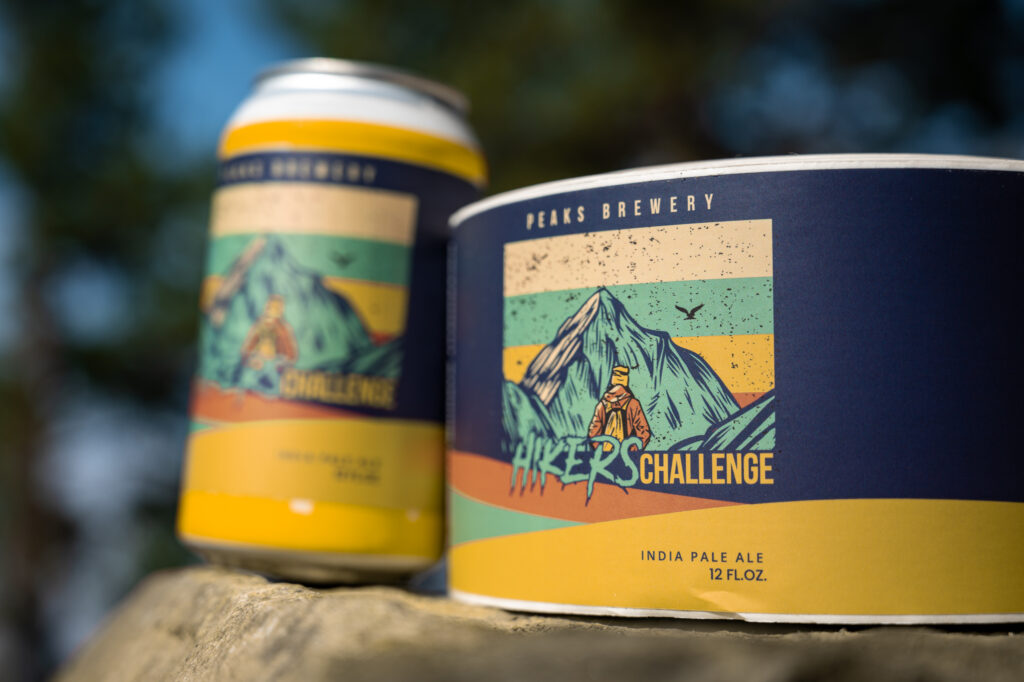 Without a doubt, when you are creating a business plan, the first thing you start with is creating a budget. Sometimes it is okay to go outside your budget, and sometimes there is no room for that. Nonetheless, you need to do what's necessary for your company. In this case, what is suitable for your brewery? Building a budget and sticking to it will be your first sign of success. 
Especially in this particular section, Sticker Mountain can help you achieve your goal. 
First, we have affordable prices with a quick turnaround time. We offer paper labels in both of our lamination materials, creating an even more cost effective option for your custom beer labels. Plus, with our 48-hour turnaround time, The sooner you get your beer labels, the sooner your product hits the market to make money. This counts for homebrew labels as well. Also, it doesn't matter which kind of beer label you order. Nothing is too much of a challenge for Sticker Mountain.
Second, digital printing is also very cost-effective. So when ordering your personalized beer labels, be sure to research different printing methods and materials, and what fits best with your branding and company budget. 
Sticker Mountain's Got Your Back in Beer Label Printing
Last but not least, you can call or get your live quote today! Three is no problem too big for us to help you solve! We will go to any length to ensure your custom beer labels will be perfectly printed. Finally, for more information, please visit our FAQ page! We care and take pride in our customers
Did you know the strongest beer on the market today is called Snake Venom by Brewmaster? Snake Venom has an ABV (alcohol by volume) content of 67.5%; to clarify, it does not include actual snake venom!