The Yeti's Guide to Commercial Labels and Stickers
There are a million little things to know when designing a custom label or custom sticker. That's why Sticker Mountain is here to help you. We know it's essential that your customer commercial label and sticker tells your story; more importantly, it shows your story. Custom labels and stickers are a key component to your product sales; Sticker Mountain thrives off going the extra mile to ensure your product labels are nothing short of excellence. We've built a team of highly qualified professionals that are ready to bring your product to life. Additionally, we've assembled a few resources that may come in handy when creating your custom labels or stickers.
Expert Guidance To Creating the Best Custom Product Labels
At Sticker Mountain, we supply you with vital information to make the best decisions regarding your custom commercial labels and stickers. Decisions like materials and finish options, how to design your labels, and choosing your label shape and size are just a few ways we can help you create the best custom product labels.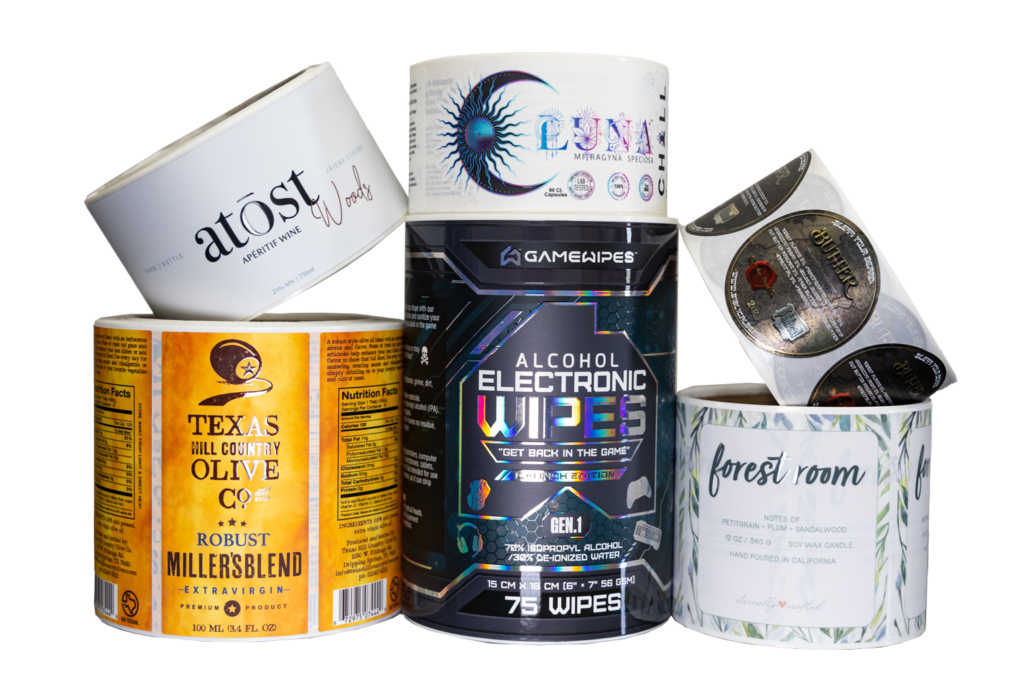 Digital embellishments are the newest way to enhance your commercial product labels. From Foiling, to Raised Spot UV, bring life into your label that blows away the competition!
Custom Stickers VS Custom Labels
Custom labels and stickers are vastly similar because they promote business and create customer connections. However, custom labels are aimed at the product market, providing information about your product, and they're designed to be directly applied to your product package or container. Product labels provide specific information to the consumers, such as the ingredients, warnings, and the product's intended use. 
Despite their differences, custom stickers and labels are both printed on materials that can withstand environmental conditions like moisture, oils, heat, or freezing conditions. On the other hand, custom stickers are mainly aimed at promotional use. Typically companies include complimentary stickers in order to promote new products or reorder discounts. In addition, custom stickers can be used at special events, such as business events, weddings, birthdays, and more! You can even design personalized stickers with custom cutouts that can be their own profitable product.
Tell Us About Your Custom Label Project
Undoubtedly, it can be overwhelming to design custom labels or personalize custom stickers after all the information you just read. Making decisions on the design, size, shape, and materials, all while on a budget, can be difficult. Sticker Mountain is here to relieve that stress by providing label experts to help you through the process. We provide solutions to your needs by giving expert advice to your custom orders. Sticker Mountain cares about your business's success. Contact us by email or phone. Start your order today!