How To Order Stickers and Labels
First, when Sticker Mountain receives your order, your request goes to our art department; they review your custom label or custom sticker order with one last expert check. If they find any errors that need editing, the artist will mention these and send back your art for your approval. This process will happen until you are satisfied. Once you approve your design, there may be no other changes to the artwork after this point. 
Second, we send your custom design to our state-of-the-art digital printer, where your custom label or custom sticker is printed using the CMYK color space.
Third, once your custom label or sticker design has been printed, the lamination and cutting process begins using our laser! 
Finally, it is time for your custom order to be shipped! 
Digital printing saves money and time for all parties involved. Sticker Mountain works together to provide you with the best custom labeling solutions. We pride ourselves on building relationships with businesses and the community. Working directly with small and large business owners allows us to understand their custom product labeling needs. We get the job done, and done right.
1) Determining the Best Way to Print Your labels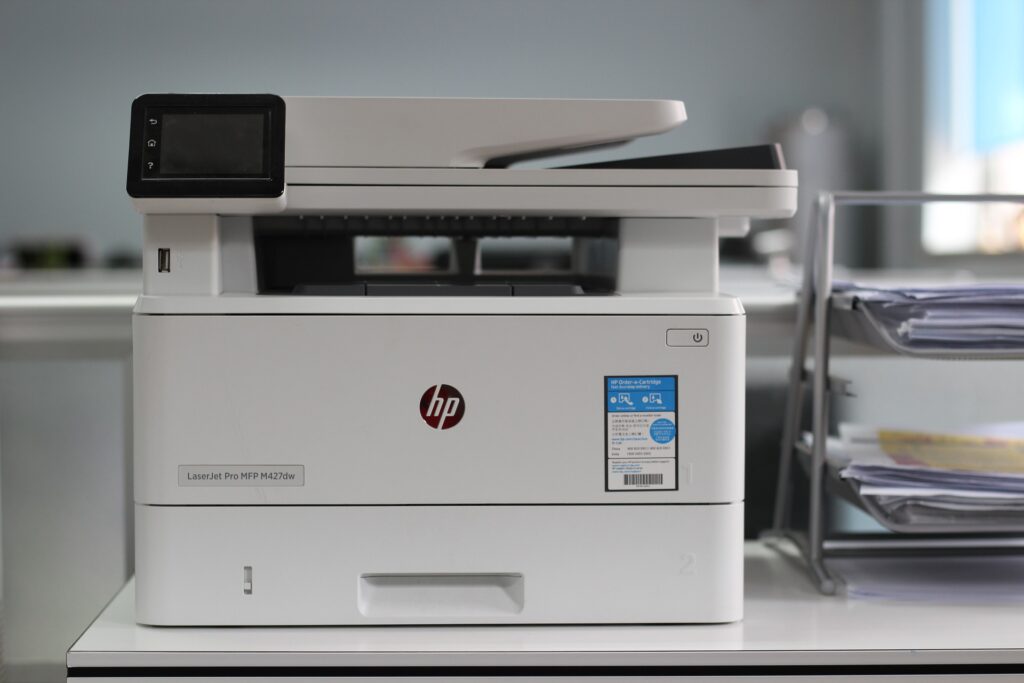 As you begin your business endeavors, labeling your product is a must. First, you need to determine your business budget for brand labeling. Next, you need to decide if you will invest in in-house printing or source the job to a professional label printer. 
Most entrepreneurs think the best route is printing their business labels themselves. This might be the best option at first; however, understanding the volume of labels you will need is vital and ever-changing. Remember that printing your labels is quite an investment in materials and printer maintenance. Investing in a home label printer can cost on average between $300.00 and $600.00, not including ink, materials (paper), machine maintenance, and, most importantly, your time. 
Consequently, spending too much time printing your labels, may negatively affect other areas of your business. As your business grows, your time becomes more precious; therefore, sourcing out your custom labels to a professional label printer like Sticker Mountain will significantly benefit your company, budget, and time. It's essential to remember that a label company with a user-friendly online ordering system will free up your time to put towards your business. 
Deciding on A Digital Label Printer
Digital printing has become almost a standard in the printing industry. After deciding which company you want to do business with, you must compare the features and benefits they bring to the table.
Attributes you want to look for in a company are speed in service and delivery, quality of the products, and quality and speed of their customer service. Quality goes deeper than just the labels. It's in their website content and user-friendliness of the online ordering process.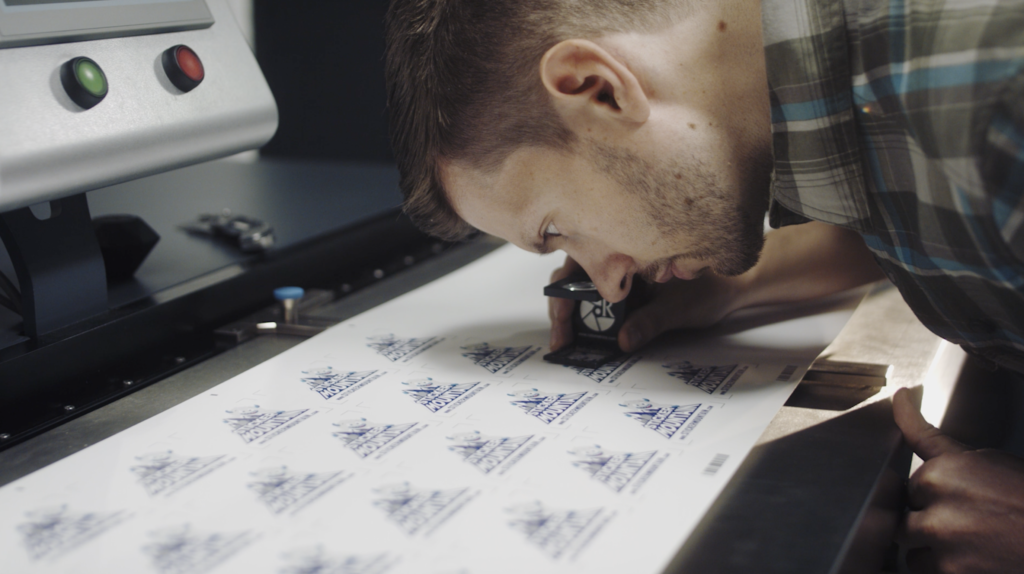 Check out the information below to see how we compare to some of the other digital label printers out there!
2) Choosing A Label Shape
When choosing your label shape, keep in mind the shape of your product. While a majority of product labels are square or rectangular, it's okay to think outside the box! Make your brand one of a kind by mixing up your custom label designs. For example, instead of creating a generic rectangle label for your beer bottle, create a custom circle or badge shape label for your bottle to make it stand out. 
If you have an oddly shaped container, you also have the freedom to create a custom-shaped label for that particular container. Another common option is tapered labels. If you don't know if your container is tapered, check out the video below for some extra help in measuring these bottles!
Additionally, the same thing goes for custom stickers. The world is your oyster; create personalized stickers of any shape you desire. Let your creative juices flow, and let us do the printing.
Next, it's time to decide your label size. There's no such thing as one size fits all when it comes to labeling products; there are endless shapes and sizes your product packaging can come in. Such as bags, tubes, boxes, cans, bottles, jars, and so much more! A perfectly clean-fitted label shows your consumers you care about your product quality, take pride in your business and their experience.
Recommended Label Sizes by Packaging Type
Popular Label Sizes for Bottles
Popular Label Sizes for Cans
Popular Label Sizes for Bags
Popular Label Sizes for Lip Balm Tubes
Popular Label Sizes for Jars
Popular Rectangles
Popular Label Sizes for Bottles
Popular Label Sizes for Cans
Popular Label Sizes for Bags
Popular Label Sizes for Lip Balm Tubes
Popular Label Sizes for Jars
Popular Rectangles
4) Choose a Label Material
First, when selecting your label material, you need to consider the product's function and the environment your product can be enduring. Where will it be stored? How will it be used? If you're selling a Craft Brew Beer, you need a label that can withstand cold temperatures and is waterproof. Or a cosmetic product that is full of oils, your label material must be oil-proof in case the consumer spills the product on the label. 
Material types offered at Sticker Mountain are White Bopp, Clear Bopp, Silver Bopp, and White Paper. Bopp is one of the most popular materials because it is waterproof, oil-proof, can withstand freezing temperatures, and can withstand heat. In addition to these fantastic features, Bopp material is more durable and economical than most options such as vinyl. We also offer white semi-gloss paper, as an even more economic option for your custom labels.
Our custom labels are made of quality polypropylene or BOPP material and are water and oil-proof. This makes for an extremely durable label. White labels are the standard choice for durable labels and glossy or matte laminates when applied give you various effects. They're often used for all your custom product label needs.
Our metallic labels are made of quality polypropylene or BOPP material and are water and oil-proof. This makes for an extremely durable label. Metallic labels are unique in that when colored inks and laminates are applied, they produce a reflective, metallic effect on your labels. They're often used for creating a luxurious or attention-grabbing look to your custom product labels.
Our clear labels are made of quality BOPP material and are water and oil-proof. This makes for an extremely durable label, and gives your product a "no label" look to be seen beyond the label. Clear Bopp is great for bottles and transparent packaging. These labels are pressure sensitive and will adhere to your product or packaging error-free.
Our white paper materials is made with our #60 Semi-Gloss paper. This is a great material if you need something more economic. Looks just as great as our White BOPP material, but it costs less! It can stick to packaging, and glass and can handle cool temperatures of the freezer, and is a great tamper-proof label for food and cosmetics.
Finally, choose a finish for your custom labels or custom stickers. Your choices are between matte and gloss finishes. A matte finish gives a satiny smooth look to your label or sticker; the matte accentuates the metallic contrast. Whereas a gloss finish adds shine and vibrancy to your design. 
Matte and gloss lamination look and feel different to the touch, with the key difference being the "shininess". The key deciding factor in choosing a laminate is the type of product this is for, as well as where it's going. On the one hand, matte is a softer, smooth, satiny finish, whereas gloss is high-shine, and reflective effect.
Soft-Touch Matte Laminate
Soft-Touch Matte Lamination gives your labels a velvety, silky touch. With light-diffusing properties, its soft glow makes your label more luxurious, classy, and irresistible. Create premium product labels with a smooth finish, and deluxe experience for your customers. 
Foils are here at Sticker Mountain! We will be able to do custom cold-foiling in a variety of colors for your label needs. Have you ever seen digital foil? Well, have you heard of cold foiling? It's the same concept, however, we use digital technology to accurately place foils on any location on your label. The best part? Eliminating waste, as well as the cost of extra tools and time. With the option of implementing 4 different colored foils onto one label is something unheard of: until now. Be on the cutting edge of your industry with beautiful, luxurious and bold foils.
Raised Text, textured surfaces are here at Sticker Mountain! You can choose certain areas of your design to have a raised and textured surface to it, giving it that wow experience for your customers! Or, if you want certain areas to have a glossy effect, or to give your label a little more protection, this is the way to go!
Tips for Rewind Directions
Roll Direction #1: the top edge of the design comes off of the roll first.
Roll Direction #2: the bottom edge of the design comes off of the roll first.
Roll Direction #3: the right edge of the design comes off of the roll first.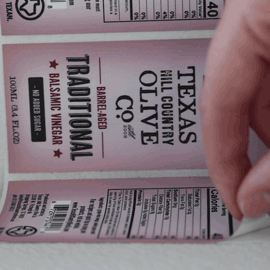 Roll Direction #4: the left edge of the design comes off of the roll first.
6) Creating Your Label or Sticker Design
There are many different avenues when designing your custom label or custom sticker. First, you can hire a professional graphic artist or create your design using graphic design software like Adobe Illustrator. Before you choose which one you want to use, keep in mind your budget and any previous experience with graphic design. Of course, if you don't have graphic design experience, it may be very time consuming, and hiring a professional might be a better choice. 
Sticker Mountain provides top-of-the-line graphic artists to meet your design needs. We believe in creating quality relationships as well as quality products. Sticker Mountain is no stranger to custom label and sticker needs.
Label Compliance and Regulations
It is necessary to remember that when you are creating your custom product label, make sure you are meeting any and all FDA requirements or regulations on a federal or state level. Being no stranger to the requirements, having done our research, here are a few links to help guide you along:
7) Ordering Custom Labels and Stickers
Finally! You've created your custom label design, chosen your shape, size, material, and finish, and finalized your custom design. Now place an order for your custom labels or custom stickers!
Sticker Mountain makes it quick and easy to place your custom order. If you're unsure which materials or finishes to use along with choosing a size, please visit "Request a Sample" to receive a free sample pack! In this pack, you see a comprehensive guide to all our paper material and lamination options. We're here to make your vision become a reality.
Tell Us About Your Custom Label Project
Undoubtedly, it can be overwhelming to design custom labels or personalize custom stickers after all the information you just read. Making decisions on the design, size, shape, and materials, all while on a budget, can be difficult. Sticker Mountain is here to relieve that stress by providing label experts to help you through the process. We provide solutions to your needs by giving expert advice to your custom orders. Sticker Mountain cares about your business's success. Contact us by email or phone. Start your order today!