When it comes to product marketing, there are a lot of options, especially when it comes to food labels! Make your products stand out from the crowd with a custom label for your food products .
Whether you're home canning, beer making, or launching a new product; you're going to want a custom design that encompasses your brand and message. With a custom food label you can help your products get off the shelves and into consumers hands with professional high-quality food packaging. 
Our 6-step sticker ordering process is so simple and allows you to choose the stock, lamination, shape, direction, size, and quantity of your stickers or labels. We know your brand means a lot to you, which is why we give you complete creative freedom when it comes to your design. 
Easy customization. 100% satisfaction guaranteed. Value pricing. Top-quality. Fast and hassle-free, we'll be the easiest addition to your marketing strategy. We want you to experience an avalanche of success.
Our big-hearted team of Yeti's is here for YOU! If you have questions or need assistance with placing your order, please do not hesitate to reach out by phone or by email.​
This sticker and label printing company believes in giving back. Each year we pick one charity on which to focus our attention. This year, we are supporting Henry's Fork Foundation
This is a top-notch company. The labels are always high quality and affordable. Their timing is impeccable and their service is unmatched. Good service is what sets vendors apart when all other things are equal and Sticker Mountain stands out when it comes to service.
We've ordered a few times from here, the quality is above par! I washed one sticker on accident and it STILL had adhesive and the full graphic! 10/10 recommend.
I've been working with Sticker Mountain for over 5 years and they have been amazing to work with. They always accommodate special requests and put the extra effort to find solutions that work for the customer. Joe and his team are amazing. Their customer service really sets them apart!
Sticker Mountain Specializes in Custom Food Labels
Customize your food product by printing high quality labels. We specialize in jar labels, food products,beer labels, hot sauce labels and any other food packaging needs! Start your label order below and allow us to stick with you all the way.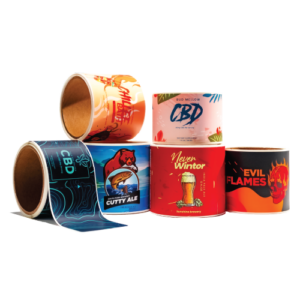 Do you ever feel like your custom label needs to look better, but you need to figure out why? Well, we can help you! Your product labels directly represent your brand and voice, so
Read More »
Custom stickers give your brand a fresh and original voice, so starting on the right foot is key to getting more customers through the door! However there are a few common
Read More »
Table of Contents Labels are one of the first features consumers see when choosing a product. Understanding your target audience is crucial to your lip balm sales. Lip balm is an
Read More »