How Die-Cut Stickers Are Made Using Lasers
Have you ever wondered how we make die-cut stickers or labels? Or even what a die-cut is? This article will help you understand what a die-cut sticker is and how technology has evolved to using lasers in our simple sticker-making process.
First off, what are die-cut stickers?
A die-cut sticker is cut according to the design's unique shape, rather than a kiss-cut sticker, which has a larger backing than the design.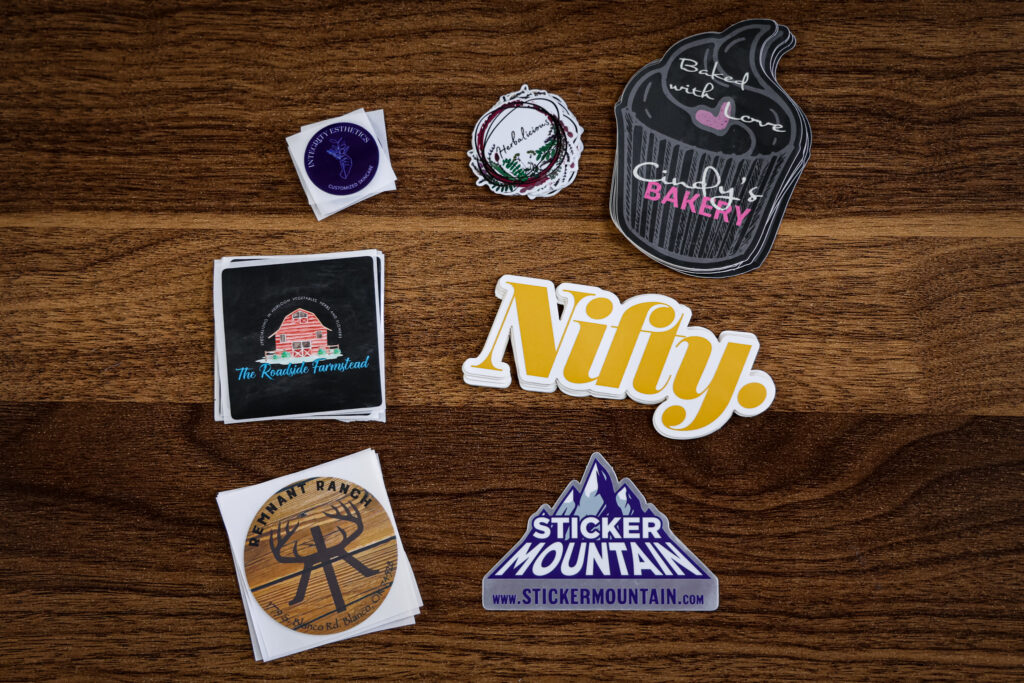 How die-cut stickers are made then vs now?
The term die-cut has stuck around today, but the process itself has improved even more efficiently due to advances in technology such as lasers. Back in the day, die-cutting machines used a thin, razor-sharp blade that was pre-formed into a specific design or outline. Similar to an automated cookie-cutter, this sharp mold cuts the decals into the desired shape. 
Standard dies included basic geometric shapes like circles, ovals, starbursts, and squares/rectangles with rounded corners. Additionally, custom dies can create just about any shape imaginable: a guitar, a bicycle, a corporate symbol, or a trademark. This die-cutting method raises your sticker's price since it requires that specially made die. 
Today, we create these die-cut stickers by cutting around the edge of your design using a CO2 laser. The laser beam is, in fact, a column of very high-intensity light. Using a laser, we have expanded our possibilities for creating stickers while also saving you money. 
In addition to that, it lasts longer than rotary die cutters. It only needs a climate-controlled environment without too much humidity. This environment maintains laser stability, and it has interior components that are sensitive to heat. Though it may be more expensive than other machines, our laser cutter will outlast these alternatives. This is because it doesn't have a mold or knife that needs sharpening or frequent replacements. 
Let's break it down step by step. To start, we load the roll of printed material onto the bottom of the machine. The end of the roll is fed through the machine, and then we splice the previous roll into this new roll, so it's easier to keep the orders moving. With that being secure, we put the laminate on the roller. We offer a gloss laminate and a matte laminate for stickers and labels.  
Next, we check the order to see which laminate the customer chose, and we load that laminate onto the machine. The laminate is fed onto the knit roller and "married" to the paper material. It sticks to each other, giving an excellent bond between both materials because of the roller's pressure. 
Once that is done, our system computer finds the correct art file containing the die-cut line. Once found, the computer uses that information in the art file to cut out that shape. We print a series of blank cut lines before the colored design to make our cuts more exact. The blanks run through our laser before the actual design. The cut line thus matches up exactly once that design goes through the laser.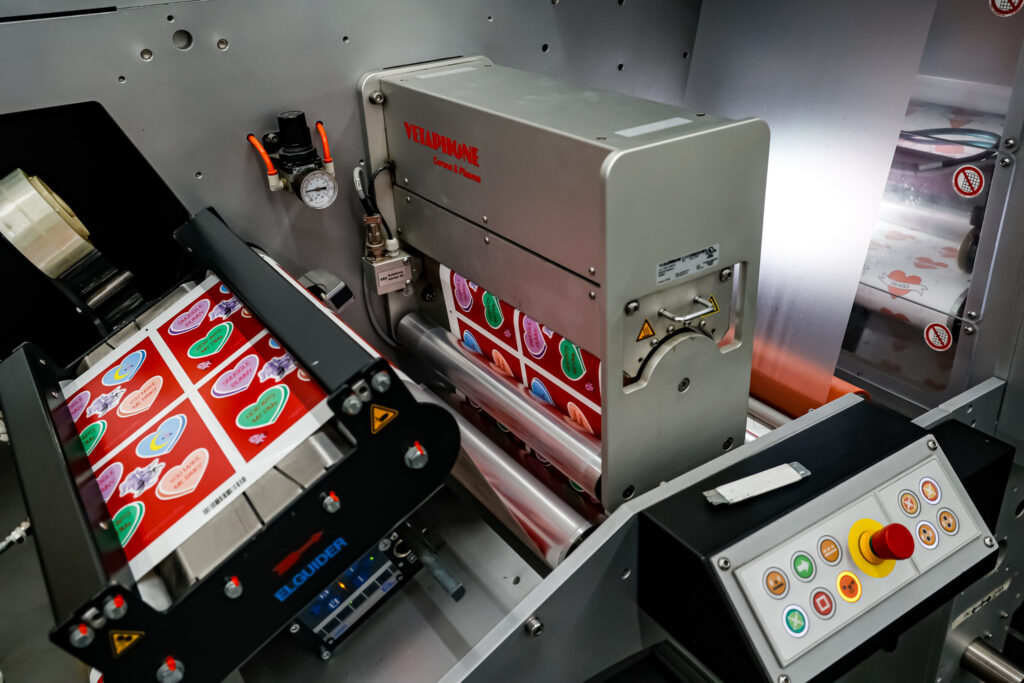 Another cool thing about this system is that we print an eye marker on every roll, which lets the machine know when to fire the laser. So, when it scans the eye marker, it shoots out the laser and then waits for the other eye marker to cut again! This little line is incredible because we can go from one shape to another, for instance, a rectangle to a circle, without switching jobs.  This process makes it easier for us to get one job done to the next in the most efficient way possible.
How does the laser fit in our process of creating die-cut stickers and labels?
 Laser-cutting has brought us many benefits, some of them being: 
It wastes less material around the shapes. This method is undoubtedly better for the environment. 

The process is generally cost-effective and efficient. 

You can achieve complex shapes without an increase the cost. 
What is the importance of having the latest technology?
Using a laser to cut stickers and labels offers businesses a unique and genuinely customizable packaging experience. Luxury packaging, as we all know, communicates a high-end, sophisticated feel but can be expensive to produce.  
This process offers high-quality accuracy in the overall design while producing large volume orders efficiently! It also provides a diverse range of shapes. It truly separates custom packaging from stock packaging and allows businesses to get creative. 
Do you have questions? Visit our FAQ page, or give us a shout, and we at Sticker Mountain can answer any questions you have.