Sticker Mountain Features Henry's Fork Foundation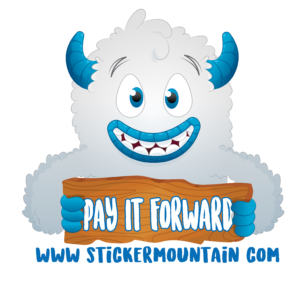 We Pay It Forward
As promised, we are paying it forward to a foundation that has done amazing things. A percent of all of our sales will be donated to Henry's Fork Foundation. Henry's Fork Foundation is the only not-for-profit organization whose sole purpose is to conserve, protect, and restore the Henry's Fork watershed and its legendary wild trout.
 No matter
if you are a hardcore outdoor person or a person who enjoys the pictures and views from inside your home.
It is no secret we are fans
 of the outdoors and mountains, hence the name! 
The Reason for our Efforts
At some point, we all find peace and joy in the wilderness and the rivers that run through. While some people will never think beyond the beauty of the pictures, others are out there conserving and maintaining the beautiful spots, so that we can enjoy the beauty of the outdoors
. 
Although many of us might think that the rivers are maintained on their own, they are not. The Henry's Fork Foundation accomplishes much more than we might think
.
They help
successfully maintain and conserve the 126 miles of the Henry's Fork. They take care of the fisheries' health, habitat and biological research, and stewardship and restoration projects. This foundation is so important to
the health of the river.  As they put it "this foundation is the voice of the river". Additionally, they have helped start the South Fork Initiative expanding their reach to other great watersheds in the area.
 After working with many people on sticker and label jobs, we have come across some of the most caring and motivated people. They are all so passionate about taking care of our environment. With significant issues such as drought, changing climate, and variable weather, we need people like this to develop innovative approaches to solving all the problems that come with this. We have enjoyed all of our interactions with those who have purchased fly fishing stickers, and their passion for helping maintain the river was clear. Likewise, so many of these people have a passion for the environment and are willing to donate their time. They execute and go above and beyond to
do 
what it takes to keep the ecosystem healthy. 
Learn More About Henry's Fork Foundation
To everyone at Henry's Fork Foundation, we want to thank you for trusting in us to get your message out! Thank you for all you do! If you would like more information about this foundation please go to their website and read about all they do!
What does this foundation do? 
https://henrysfork.org/south-fork-initiative
Check out this video to see what they are all about! 
https://youtu.be/QcxQge9Rasc
Coupon Code: HFF2020  this is 15% off and 3% of all sales with this coupon code will go to the henrys fork foundation.