Three Reasons To Use Custom Crack and Peel Stickers
Are you tired of your stickers ripping when you try to peel the backing off? Or spending way to long trying to grab a hold of the backing. We know it can be frustrating to peel the paper away and you can't get it! Sticker Mountain is here to make your life a little easier! Custom stickers with crack and peel backing, are a fantastic way to promote business, support causes, or even add some pizazz to personal items. When you order custom stickers, you automatically receive back scoring for your sticker, unlike other label companies that use solid backing stickers only. At Sticker Mountain, we provide back scoring on all our custom stickers, including our kiss-cut sticker orders.
What is Back Scoring?
First and foremost, back scoring is also known as crack and peel. Which is exactly how it sounds! The paper on the back of your custom sticker has a perforation slit down the middle, so all you need to do is give a slight bend where the slit is, and the paper will pop up, and you can smoothly peel off your sticker. So, let's get down to the nitty-gritty of three ways back scoring is a lifesaver on your custom sticker orders.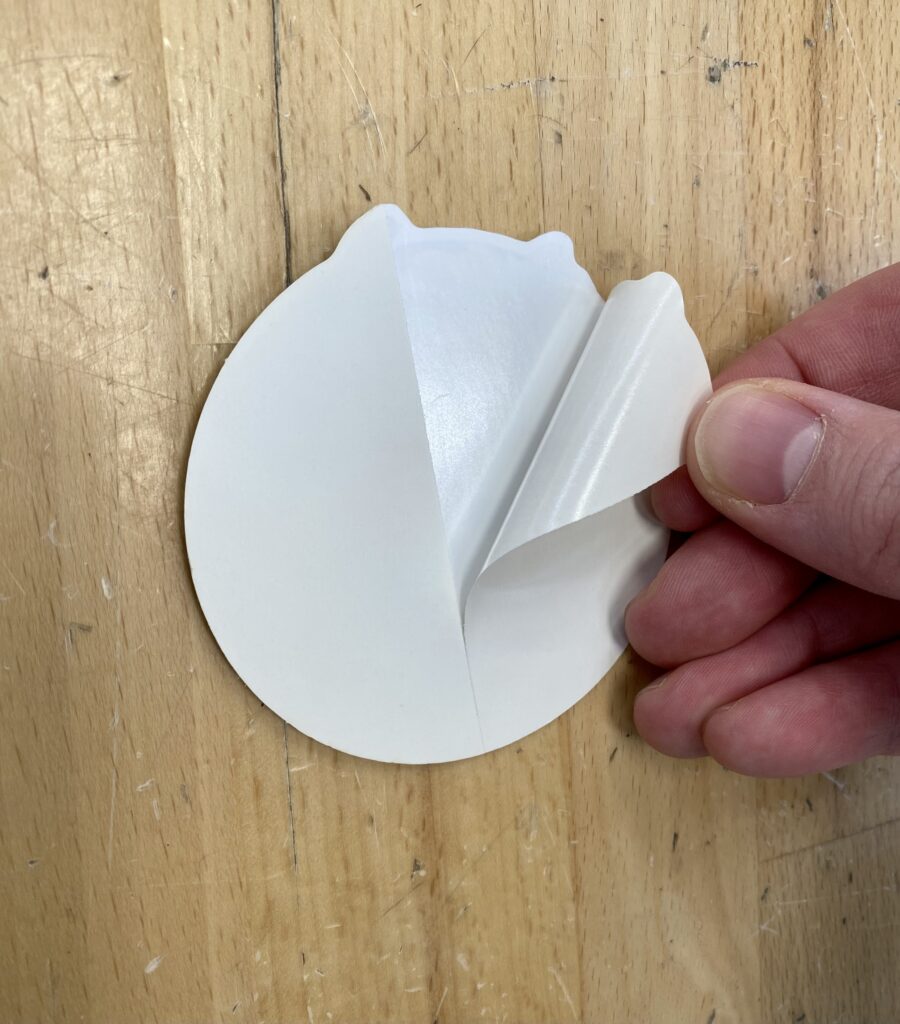 The first way back scoring or crack and peel can make your life easier is it provides simple sticker application.  Here are a few ways easy sticker removal will help you:
Faster application to products or belongings
Clean separation of the sticker from the paper- there are times when unwanted residue comes with the sticker from that paper.
Unwanted sticker wrinkles
Unwanted sticker rips
Easy surface removal- removing a cleanly applied sticker is significantly easier than removing a sticker that accidentally went on sloppy because it was ripped and wrinkle
What's great about crack and peel is that it's automatically included for all of our stickers. It doesn't cost extra to add ease of use to your stickers! You don't have to make any special requests either. Not only do you save time, but money!
Easy sticker removal plays a key role in high-quality production. Sometimes, applying a sticker feels like you are performing surgery. Like surgery, we want your custom sticker to turn out perfect. Crack and peel makes your sticker's application easy and flawless. It allows you to remove one side at a time to aim for accurate placement. This way, your not fighting a sticker and possibly wasting them. Also, it eliminates unwanted customer or personal frustrations due to the sticker's wrinkling or tearing.
Above all, you should remember that Sticker Mountain provides the best of both worlds. Your custom-designed stickers all have crack and peel backings, unlike other printing companies who don't offer this convenient option without specific requests. Our state-of-the-art technology can print the most detailed of designs while still allowing for simple sticker removal. Who wouldn't want a faster application to make life easier? Begin your online order today.
Did you know?  Fire ants cause over 3 billion dollars worth of damage a year!