What are Commercial Labels?
Custom Commercial Product Labels and Stickers
Custom commercial product labels are essential in all industries around the world. Essentially, they play a key role in its success, no matter how large or small the industry or company is. In addition, custom business labels have the ability to encourage consumers to buy your product. 
On the other hand, product labels aren't there to look pretty. They are vital components for numerous reasons. Commercial labels are on products to inform the consumer and represent your brand. Let us dive deeper into commercial labels and stickers.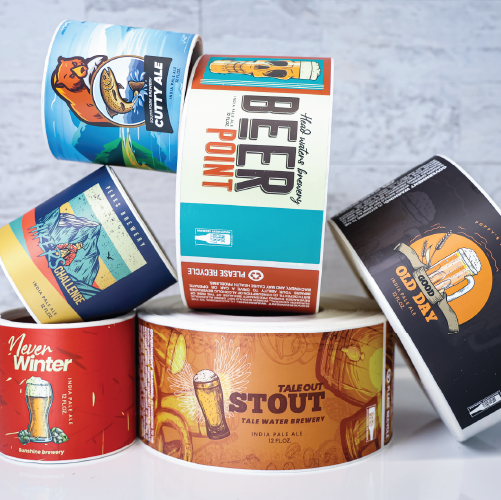 What Are Commercial Labels?
What is the difference between commercial labels and commercial stickers? Commercial labels go onto a product that gives the consumer information. In fact, labels are produced on rolls. In many cases, the rolls are inserted into another machine, and that machine applies the labels to the products, allowing production to flow faster. 
Commercial labels are used in many industries to display information about the product. For instance, product information includes a list of ingredients, directions for use, and contact information about the business. Industry labels like food, beverage, and cosmetics must comply with FDA, state, and local regulations.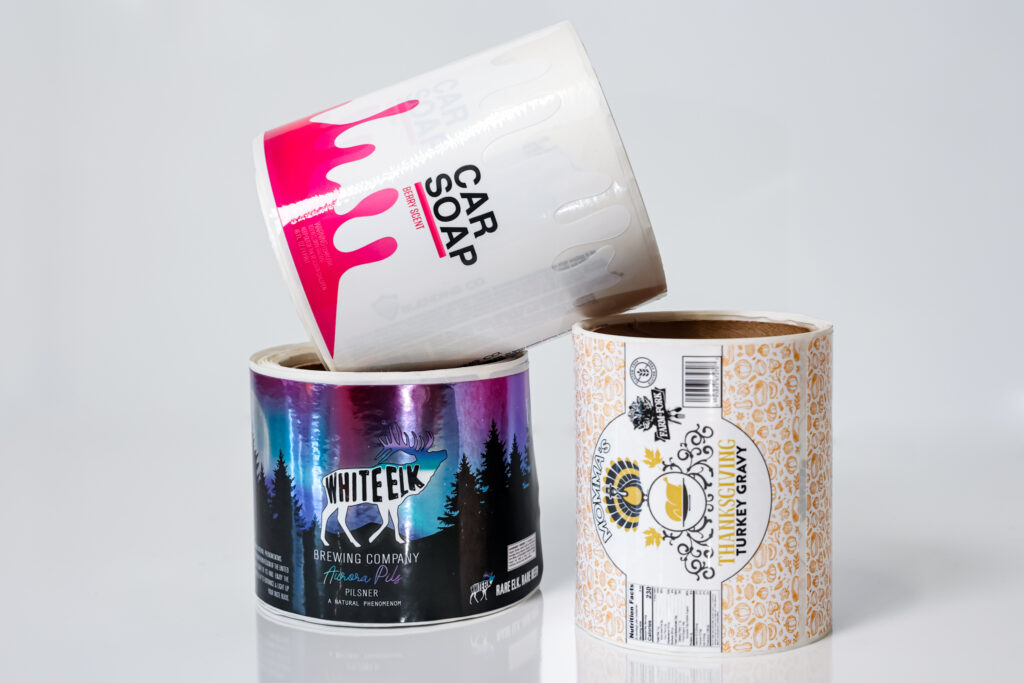 We Make Your Commercial Labels Custom To You
Labels representing your brand are your number one salesperson! In other words, shoppers look to labels to find information about the product. For some consumers, it's the colors and pictures on the label that determine the deciding factor whether to buy or not.
Sticker Mountain can customize your commercial labels to meet your needs. For instance, many companies need barcodes, consecutive numbering, color matching, and other requirements. In fact, we print labels in numerous shapes, sizes, and colors. 
Color consistency is critical when trying to catch consumers' eyes. Sticker Mountain 's goal is to be there for you every step of the way. Therefore we have invested in new technology to give our clients high-quality labels and top-of-the-line customer service. 
Sticker Mountain's labels are: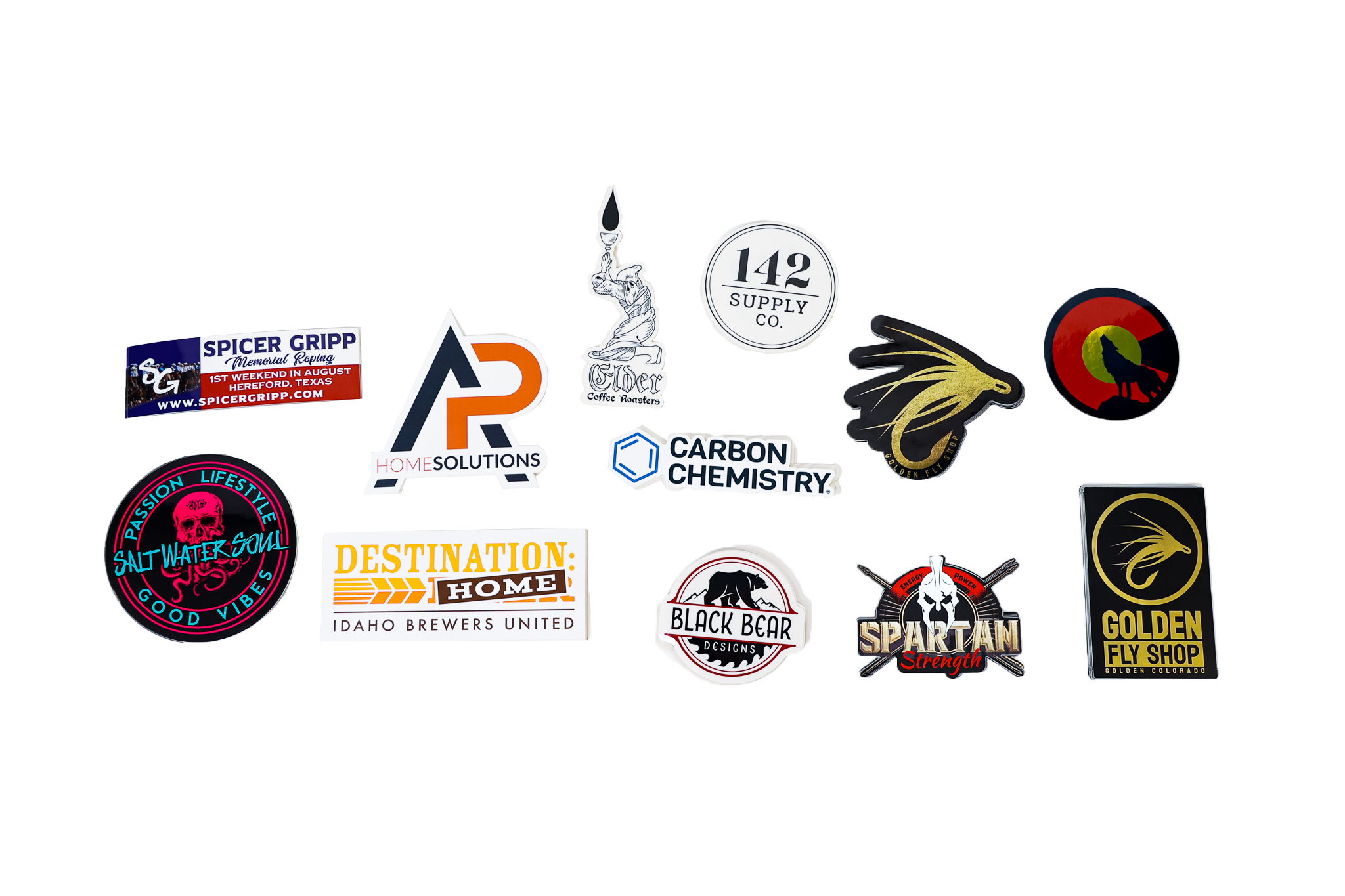 Commercial stickers are key for promotional purposes and company branding. The unique stickers allow you to hand them out and stick them in places thus promoting your business. Custom stickers can be any shape or size with the option to have a gloss or matte lamination. 
The goal with stickers is to be a fun yet an unintrusive way to get your brand out there. Stickers can be put anywhere, from bumper stickers to camping coolers, water bottles, bikes, laptops, and even refrigerators. If you can think of it, you can stick it! 
How are our stickers different from others? They are:
Dishwasher safe 
Durable, weatherproof, waterproof, and oil proof
Option for gloss and matte laminations
high-quality color matching
Electronic proofing system
Fast turnaround time
Designing Your Commercial Labels
When designing your commercial label, you must first know what product you are labeling. In most industries, businesses have multiple products for sale. 
For example, in the cosmetic industry, a company may want business labels for tubes of lipstick and powders in circular containers. Knowing what you are labeling will help you determine the size and shape of your label. If you need help measuring your container, you can visit our blog here.
What Industries Use Commercial Labels?
At Sticker Mountain, we provide custom commercial labels to all industries. Each business label is custom-designed for a specific use. Most importantly, we have a variety of quality materials that will be a perfect fit for your product. 
Working with various clients has given Sticker Mountain the ability to know what commercial industry standards are; that way, we can better help you. We are fantastic under pressure and can meet any of your commercial label requirements as well as vendor needs. Industries that use commercial labels are:
Should I buy an in-house printer or use a commercial label printer company?
Everything has its pros and cons, but the last thing you should worry about is printing your own labels. In other words, your time and energy should be invested in your business; not concerned about printing your own labels. Leave that to the pros. 
Often, business owners think having a label maker will be easier and save them money. Nope! Moreover, small businesses are often misled about the expenses of a label printer when it comes to materials, maintenance, and time. For instance, the amount of time you spend on setting up the correct alignment and colors alone costs you more money. In short, stick with printing professionals like us at Sticker Mountain. We are in it for the long hall.
As mentioned above, our goal is to grow alongside your company and help your products shine every step of the way. As a result, our mission is to get the newest, most updated printing technology that way you have consistent labels every time.
To sum up, we service all industries like, supplements, cosmetics, CBD, chemicals, the food and beverage industry, and many more. Most importantly, we learn your business's goals and help you reach them. Purchasing custom commercial labels isn't just a purchase; it's an investment, and by investing with Sticker Mountain, we take care of your custom label needs. Similarly, in choosing us for your business labels, you receive the benefits of speed and quality of your order, affordable delivery, competitive pricing, and, most importantly, one-on-one customer service. 
The best part of us is to be a part of you, so if you need to learn more about are process, check out our FAQ page, our YouTube Channel, or talk with one of our label experts to get you on the path to success.
Did you know there are 31.7 billion small businesses in the USA, and 47.3% of small companies provide work for the workforce? Another interesting fact is that 69% of small businesses are started in people's homes!