What in the Sample is this?!
Stickers and labels are in high demand these days. Do you want to know what else is in high demand? The answer is good customer service and quality products. Here at Sticker Mountain you get both of these. Sticker Mountain even offers interested customers FREE sample packs! Yes, indeed, you read that right,a FREE sample pack! 
What is a sample pack? What do I do with my sample pack once I get it?
Sticker Mountain's free sample pack gives the customer a vision of what their custom stickers or custom labels will look like through examples of other printed labels and stickers. The goal of our sample pack is to give our customers an idea of all the products we offer. Such as the different materials and different laminations. The sample pack is also made to provide the customer with as much information and examples as possible to make them more confident when ordering their own custom labels or custom stickers.
With the sticker pack comes an icon guide. The icon guide gives suggestions on which style will be the best for your future custom sticker or custom label order. Here are a few ways you can put the sample pack to use.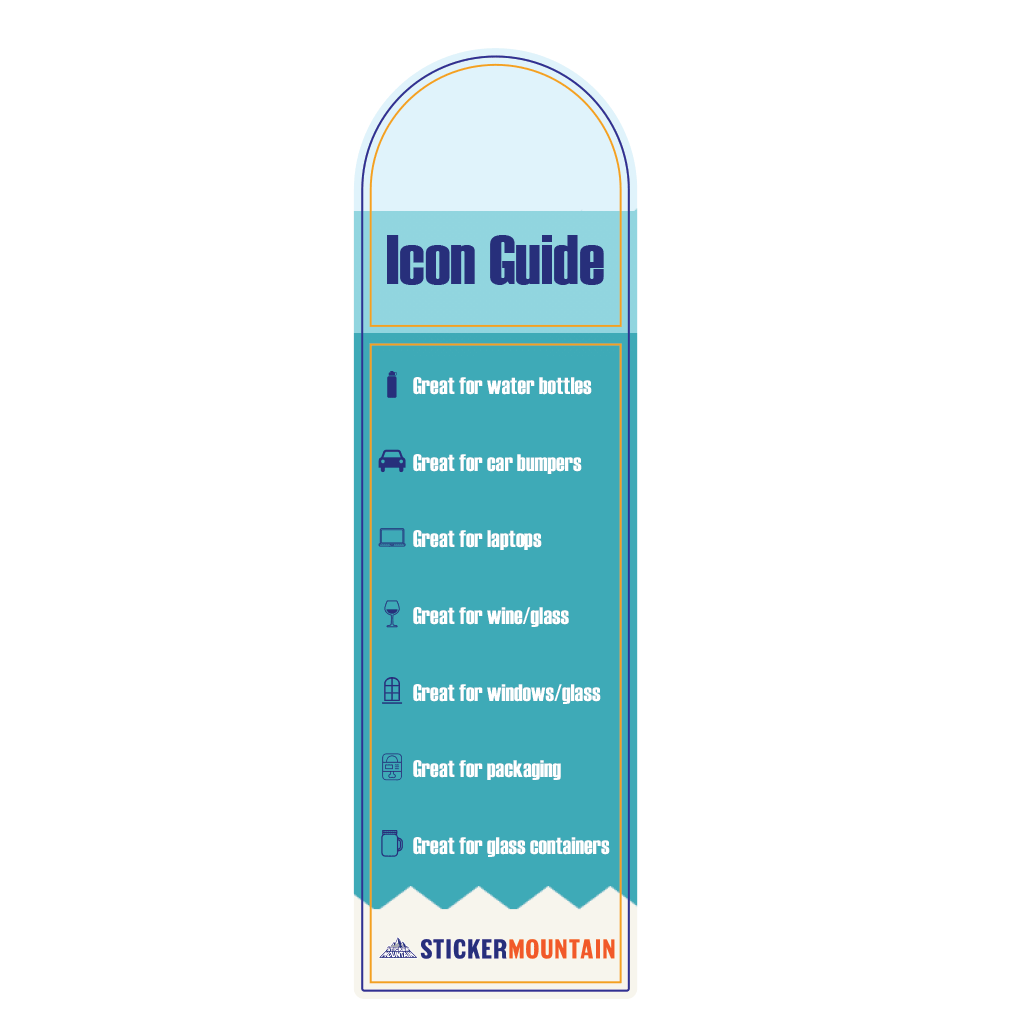 When you get your sample pack, you will notice a perforation, which lets you tear off the sample and use it how you want your custom order to be used. That way, you can tear the label or sticker sample off and put it where you please. 
For example, stick it on your favorite water bottle and bring it on your next camping trip. Try putting it on your car's windshield or on your travel cooler. Putting your sample stickers and labels on things you want will help you choose what kind of material you need for your custom sticker or custom label order. This brings us to the next reason the sample pack is helpful. 
Is choosing your custom sticker or label material and lamination hard? No. Sticker Mountain's sample pack provides you with the different materials and laminations offered. Before you put in your custom order, you will have physical examples plus the icon guide to help you decide which style is best for your situation. 
 Is choosing your custom sticker or label material and lamination fun? YES! Getting the sample pack is one of many fun parts when building your custom order. The sample pack allows you to try out all different types of stock materials and laminations. Below are the different types of lamination and materials:
So What's In Our Free Sample Pack?
Lamination:
All custom labels and sticker orders can come in either Gloss or Matte lamination, and now Soft Touch Matte Laminate.
Materials: 
Label materials are Metallic BOPP, White BOPP, Clear BOPP, and White Paper. 
BOPP stands for Biaxially Oriented Polypropylene. 
Sticker materials are White, Metallic, and Clear.
Our newest addition is our Label Embellishments! These include Foils, Raised Spot UV and Soft Touch Matte Laminate.
For more information on materials and laminations, you can visit our FAQ Page, or YouTube channel, or call our customer service, where our top professionals can answer your questions. 
Put these stickers and labels to the test! Here at Sticker Mountain, we are confident in the quality of our products. The sample pack allows you to see how durable our products are. Here are a few ways you can check them too. 
Stick it on a waterbottle
and run it under water, or let it take a scenic stroll down your local creek.
Throw it in a pile of dirt or mud!
Run it through the dishwasher
Even try ripping out BOPP material.
After all this,
we can guarantee you will be happy with the results.
Did you know the average beehive could hold about 50,000 bees? Bees live in colonies and are divided into three groups, all with their own tasks. Who knew making honey was such an organized operation!