What is digital printing?
Let's dig into this complicated yet interesting subject. We want to walk you through the fascinating digital printing process to give you insights into how custom stickers and labels are created! Let's talk about our HP Indigo, the latest technology to create sustainable printing technology that allows these machines to be CO2 Neutral.
But how does the HP Indigo press differ from a traditional printer?
The HP Indigo press prints off images extremely fast, and it does so on a material that goes through a machine. These printers are a special type of printing process that is put together all through electricity. One cool thing about these printers is that they can print continuously between jobs sent without stopping! That saves hours of time and resources. As a result, now we can get your jobs done even faster than before to meet your business needs. In addition to time-saving, digital printing also minimizes waste. So, with everything mentioned, to say we are excited would be an understatement.
Inside the HP Indigo Press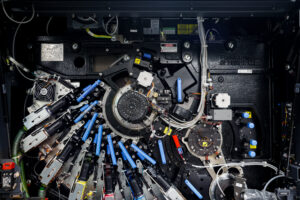 Inside the HP Indigo press engine, at the top of the machine, there is a laser writing heading where it goes in an image down onto a drum that goes around the center. From the drum, its images are in a positive charge, and whatever's positive, the ink will stick to it. And whatever's negative will wash back down into the tanks.
For instance, the digital printing machine can print up to seven colors: yellow, magenta, cyan, black, and other colors above. The digital printer can also deliver a particular color by using those colors to create a closer look at a Pantone. It will use white ink on silver or clear materials.
It lays everything down onto the drum, and an electrical charge happens swiftly, where the ink gets held into place and put onto paper. It holds the registration perfectly, so every single label or sticker printed off these machines get printed with perfect registration without movement and no fuzzy look, and the art file prints precisely. So, a file that has pixelation will print with pixelation! That's why we prefer Adobe pdf or Illustrator art files.
Paving the way for sustainable digital printing technology
Above all, another cool thing is that iHP manufactures these machines as carbon neutral. We feel proud to be part of that entire community, and it is a really forward-thinking process for the printing and packaging industries.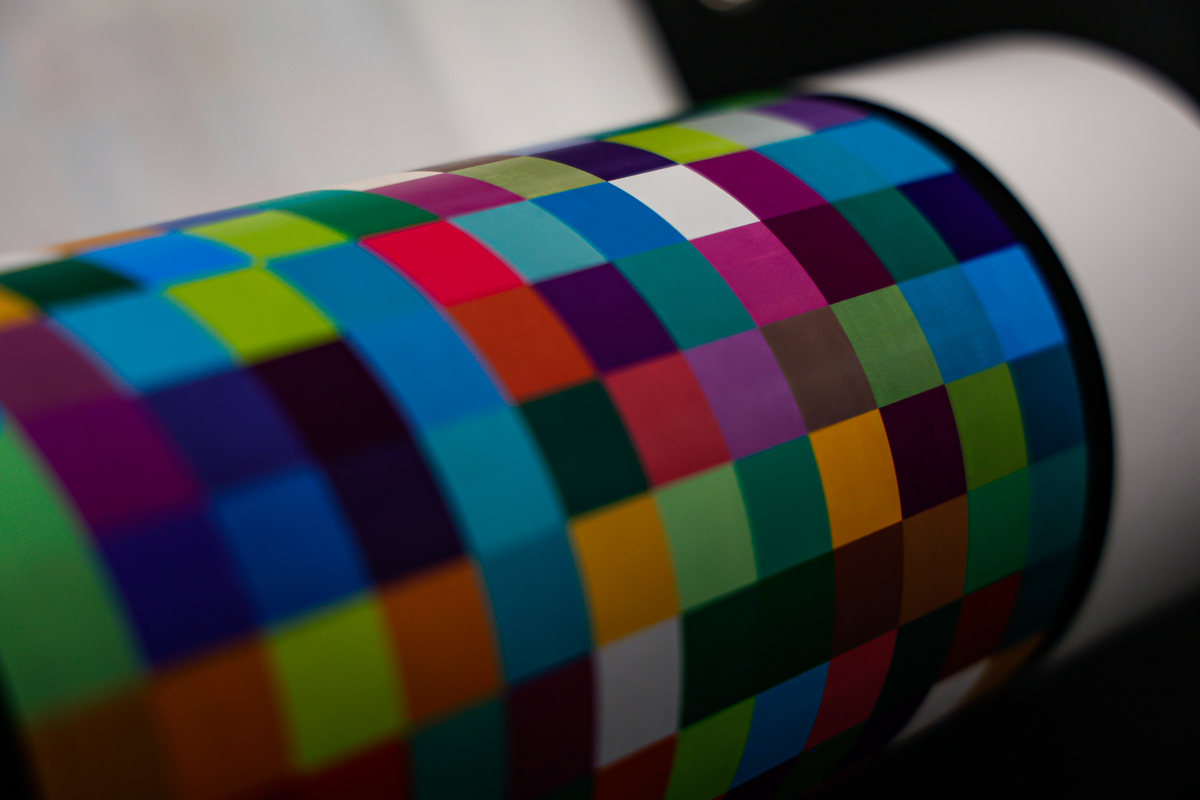 Color Calibrations and LAB values
The machines calibrate the substrates as it goes through and scans the tiles. To print a color file, it goes through this iteration of color calibration. This process happens repeatedly to ensure that our press is at the highest possible calibration. Homeostasis would be another way to describe that.
The equipment used for the color calibration is called the spectrophotometer, which reads the lab value. Subscribe to our YouTube channel with videos about the lab and color calibration. It discusses how to calibrate and what that means; we highly recommend you check out that video about color calibration.
HP Indigo Printing Jobs
Lastly, let's zoom in on the cost and material efficiency of digital printing. For a job example with many different copies, the machine can gain jobs on the same web concurrently. The cool thing is after a job is finished, another one comes straight through, saving time and material. Most of the time, four different copies can print simultaneously. That's part of why digital printing is so fascinating because it enables saving as much material and resources as possible.