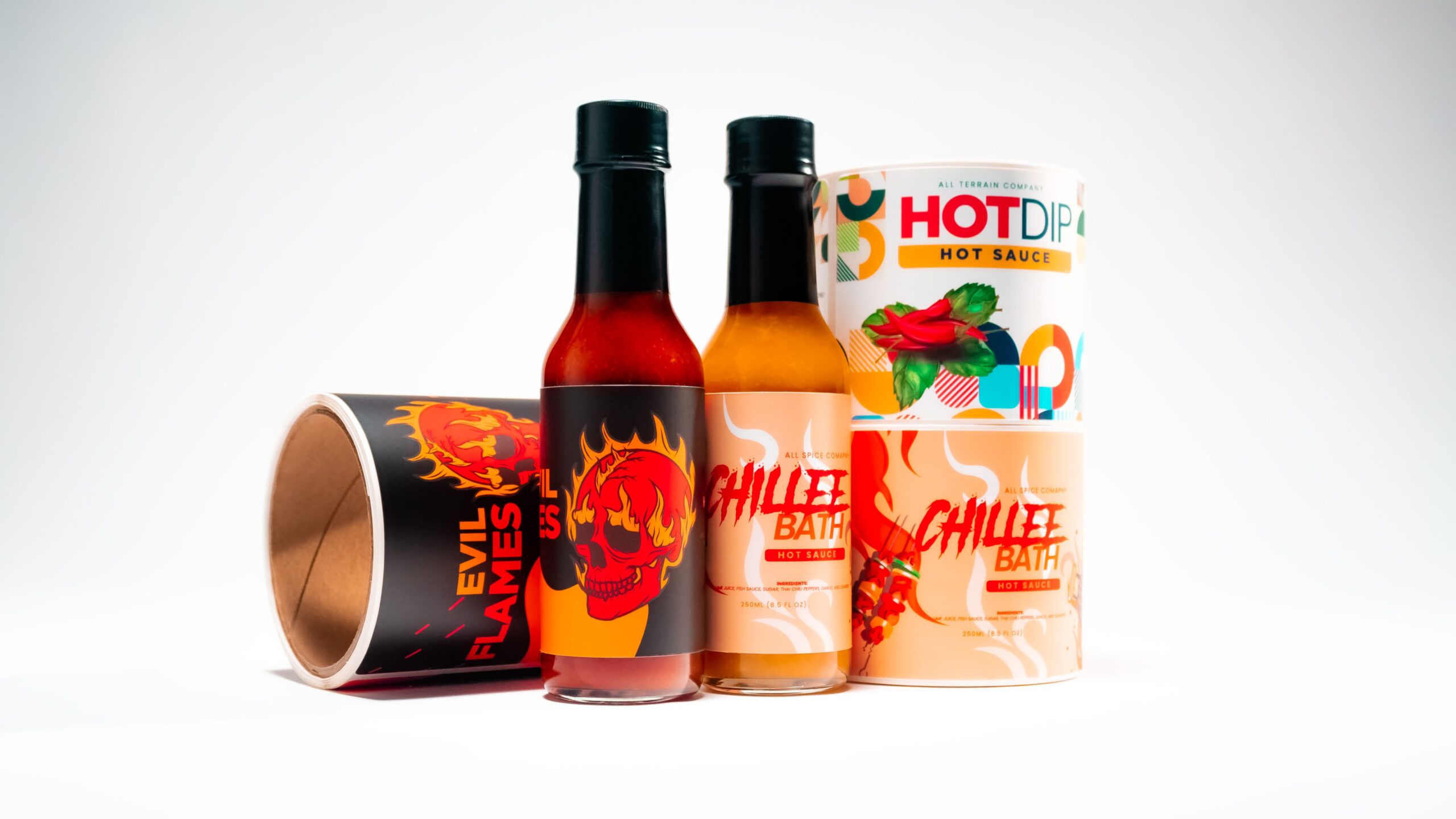 Are your hot sauce labels bringing the "heat"? We're not talking about the mouth-burning, eye-watering kind of heat; we are talking about your custom hot sauce labels being the hottest, most desirable labels on the market. Hot sauce can be put on top of almost any type of food, so there is a big market to hit with sales. Your custom hot sauce labels have the potential to do all the work for you to reach your goals. Sticker Mountain can print you the most mouthwatering label customers will crave to taste. 
Customers want to see what they are buying.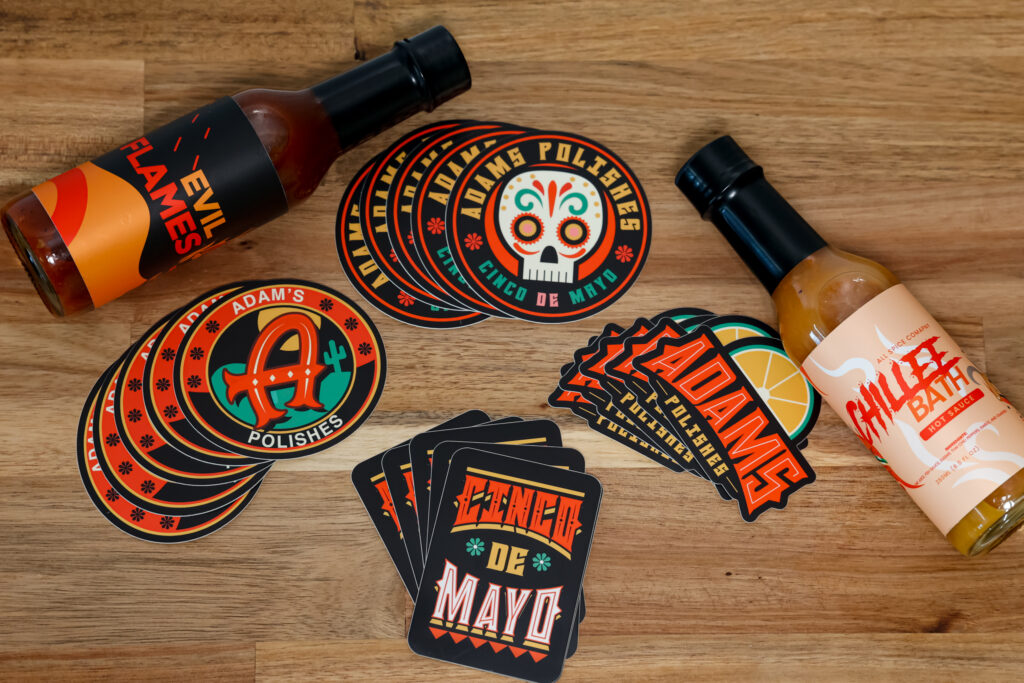 Don't let the summer heat be the only thing your customers are excited about! Introduce a new and improved hot sauce label. Contrary to belief, it doesn't matter how many different hot sauces your company has; Sticker Mountain has you covered! In fact, we make it easy for you to order various custom hot sauce labels. 
Hot Sauce labels are a big part of the food industry, so yours must not only say the essentials, but show the consumer what they will experience. Here are three tips to remember when designing your own custom hot sauce labels.
1. Make your Branding Sizzle
Having exceptional branding in a competitive market like hot sauce is essential. Customers want to know what they are buying. 
For example, a single colored label with your company's name and the sauce's flavor is forgettable. However, if your hot sauce perfectly blends sweet and spicy, then your label could be a mix of ingredient colors, leaving the shopper drooling for just one drop.
In other words, the design of your label needs to easily inform buyers of the heat and flavors of your sauce.  
Keeping your logo consistent is vital for your business. It makes it automatic for your shoppers to quickly identify your brand amongst the rest on the shelf. To keep people coming, design an unforgettable logo. 
Did I mention color? Color choice when creating hot sauce labels is significant. The color of your custom label needs to catch the shopper's eye and can also be the main reason they remember your hot sauce brand. In fact, Sticker Mountain can color match with great accuracy. The colors of your label may also represent the different levels of flavors and spices of your hot sauce.
Extra Hot
Typically, on a hot pepper scale, a nice hot deep red and even black represents the spiciest level of hot sauce out there.
Hot and Powerful
Create a color mixed with vibrant oranges and soft reds, giving the customer a tasteful challenge.
Medium Spice but Packed with Flavor
The next step down from hot sauce will be a spicy sauce. Often the spicy sauces are represented with a mix of yellow and orange.
Mild Sauce
Mild sauces are some of the most popular because they have a good range of flavors and don't burn your tongue off. These labels would best communicated by using light and dark greens mixed with bright, vibrant yellows.
The colors you choose for your hot sauce brand are crucial.
For instance, the colors you choose can affect the desire people have for your hot sauce. In addition, colors allow you to highlight the parts of the label you want the customers' eyes to see first. 
For example, with Cholula Hot Sauce, your eye goes straight to the name instead of the flavor itself. To be clear, they placed the eye-popping reds of the brand next to the bright yellows of the background. Thus, the contrast directs you to the first thing they want you to see: their name. 
Is your company having trouble designing your colorful label? Contact Sticker Mountain's art experts for advice! They make it easy for people to recognize your brand lining store shelves.
3. How is Your Hot Sauce Label Different?
As mentioned above, branding and color will make your hot sauce labels different from the rest. Your passion and love for your hot sauce will set you aside from the others. Let your passion speak through your hot sauce bottle. Here are a few ideas: 
One of the most important things that will make your hot sauce label different from the rest is that it's water and oilproof. If your sauce leaks on the label, it will not come off, no matter how hot your sauce is! Take your hot sauce wherever you go! On a camping trip or summer BBQs, take your grilling to the next level and add some hot sauce to those burgers!
The Sticker Mountain Promise
Sticker Mountain provides you with the best and highest quality custom hot sauce labels. With over 45 years of experience in the label industry, we can guarantee you will love your custom labels from us. If you need help choosing colors for your design or support with your logo, you can contact our customer service number and work directly with one of our graphic art experts! Let your hot sauce label stand out!
Did you know the early origins of hot sauce began around 7,000 BC? The Aztecs would combine chili peppers with water and use it with their food. They would even use it for warfare!