What Are Digital Label Embellishments?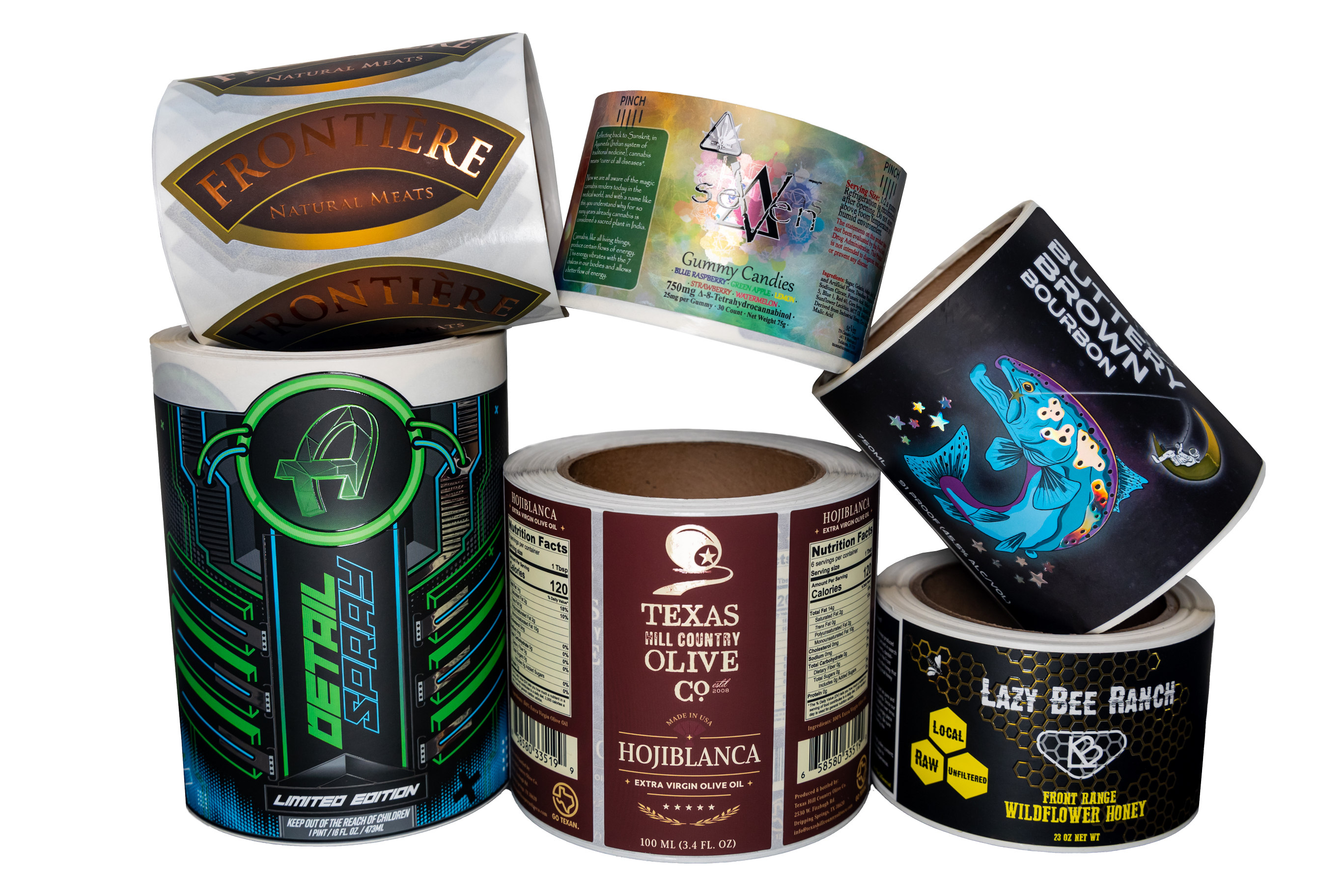 Are you looking for something new that will help your custom labels outshine all the others? Wouldn't it be nice to have a label with so much luster it will cause consumers to stop at a glance? If your answer is heck yeah! Then look no further than Sticker Mountain. We are one of four label companies in the United States that have invested in a Digital Embellishing Machine. With us, you'll receive highly exclusive, yet affordable custom labels with digital label embellishments!
For those of you who are new to the subject, you may ask, what are label embellishments? Embellishments are enhancements to a label design using various techniques to increase user interaction by engaging the senses. Our digital embellishing machine makes adding embellishments to your label a little simpler, using innovative technology that lowers the cost of production in a variety of ways. 
For example, purchasing extra tools and plates for authentic custom designs is no longer needed. This machine reduces the amount of manual labor involved with physically changing plates and adjusting machinery. Plus it reduces the time needed to upkeep these parts. This machine finishes premium custom labels with the most common digital label embellishments, such as:
First, we mount the printed label roll onto the machine. It goes through a corona curing process. This prepares the paper material for the lamination to stick properly to the paper. Then, the printed paper is "married" to your lamination of choice: glossy, matte, or soft-touch matte.
Second, the laminated material goes through the Spot UV application process. During this process, jets of clear, UV ink sprays onto the surface. We create a separate art file for this machine, so that any area you indicate to be raised, textured or extra glossy, this machine sprays the UV ink on those key areas.
With our two print heads, we can add spot UV and foiling at the same time! You can choose which areas of your design you want to stand out with a shiny, glossy surface, and which areas you want to have a foil applied. Again, let us know in the notes when uploading your artwork.
Third, the UV light cures those selected areas you want glossy for unwavering durability and adds extra shine! Whether it's creating a textured surface, such as a honeycomb, or the illusion of ever lasting drops of water, or adding glossy areas against a matte surface, this process creates a durable, scratch-resistant surface.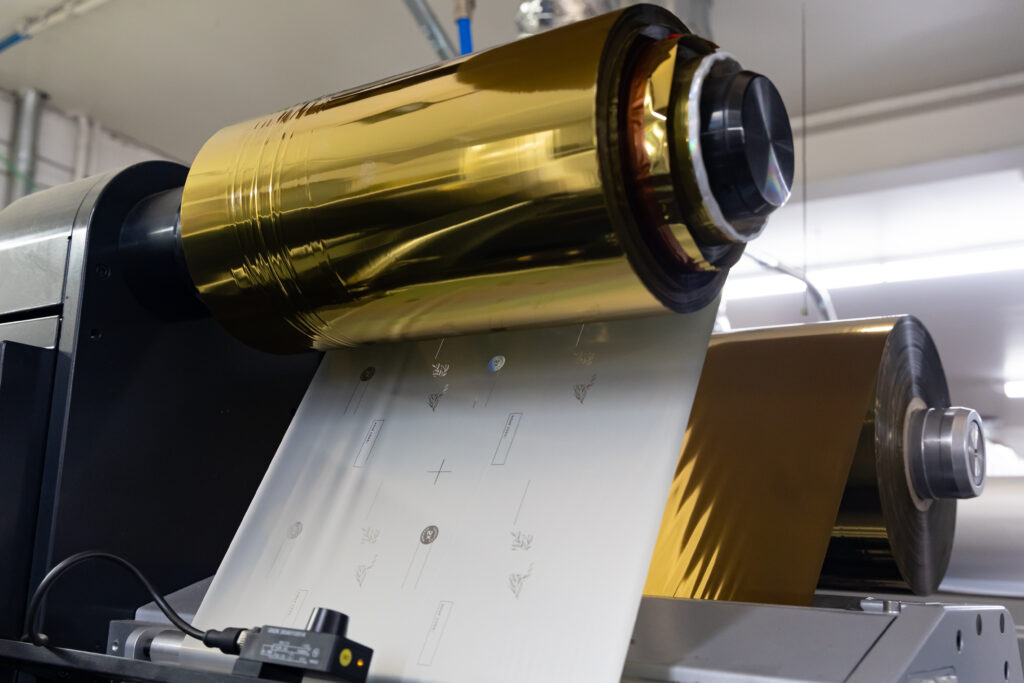 Fourth, if you choose a foil for your custom label, it's pressed on another layer spot UV ink before it cures. We have four different colored foils available: Gold, Silver, Copper and Holographic. We mount this roll of foil to the machine, from there, it is pressed together on top of the tacky, UV ink. It then goes through another curing process to harden the ink and make the foil lasting.
Finally, you have a ravishing custom label for your product full of elegance and originality. 
The digital embellishing machine gives your products stunning textures and exquisite foils. Remember, we finish each label with a matte or gloss lamination, ensuring your newly custom product label withstands appropriate elements throughout the product's life. The digital embellishing machine will, without a doubt, give your customers an excellent first impression.
Why Is Custom Label Embellishing Popular?
Custom label embellishing is becoming wildly popular because it will differentiate your brand from competitors' brands. Creating a custom design that will stop a buyer in their tracks is always the goal.
The digital label embellishing machine produces magnificent foils and highly detailed textures that communicate to your consumer through the senses. Your product sales are guaranteed a revenue boost! An elegant custom label with shimmering foils and raised textures will stand out like never before. Don't wait. Start increasing your sales with stand out labels.
Embellishing machines are impacting the industry all over the world. The United States is recently jumping on that train; as mentioned before, only four label companies around the country have this specific digital embellishing machine. Sticker Mountain is one of them. 
Embellishing machines are a game changer. The machine's simplicity alone is more affordable and time saving for our customers and us. The most significant impact it has on the industry is the competitive advantage it provides over your competitors. A gem like an inline embellisher creates label foils, textures, and laminations that make your competitor's labels look amateur, all at the same time.
Did you know in 2021, for the first time in a long time brick and mortar sales grew faster than e-commerce?
It is more important than ever to get a custom label that can stand out and produce sales!