Bring on the Money "Honey" with Custom Honey Labels
Bring your hive to a new all-time high! Investing in quality labels for your honey can lead to more sales. Now is the time to showcase your tasty honey with a custom label that will turn heads. Sticker Mountain's digital printing allows the food industry to print unique specialty food labels never seen before.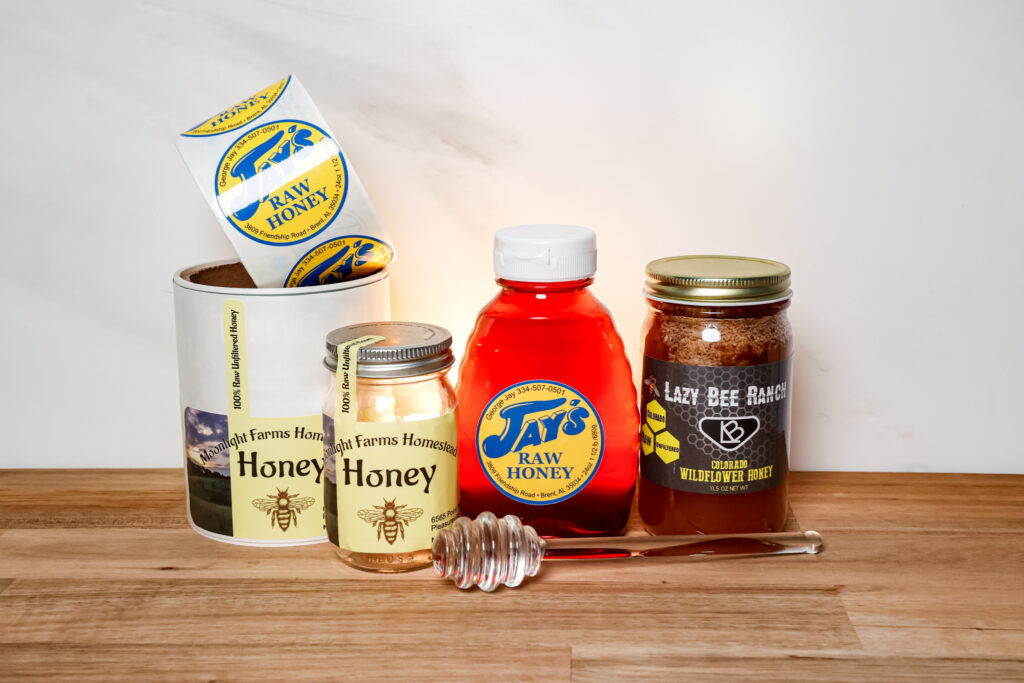 Sticker Mountain's custom honey labels come in all shapes and sizes. We're not shy here! Give us the big, the small, and the in-between; we can run it all! It doesn't matter if your honey is homemade or factory-made; our honey labels are the touch of professionalism that you need to succeed on and off the shelf. When choosing Sticker Mountain, you're choosing:
Without a doubt, all the qualities above are things to think about when choosing a label printing company. It's vital to have a variety of choices for your honey jar labels. Options can include brand creativity, colors, shapes, sizes, and materials. Creative freedom is essential because honey jars themselves come in a variety of shapes and sizes. Therefore your custom labels should be prepped in the same fashion. You may need a circular honey label to stand out on a bottle or lid, or you might get a smaller rectangular honey jar label to wrap around your mason jar. The fact of the matter is if you need it, we'll produce it!
In addition to the size and shape of your label, keep in mind the durability and adhesive of your labels. The last thing customers want is a flimsy, peeling label, especially since they'll be pouring your tasty sticky honey. At Sticker Mountain, our labels are:
If you want to ensure your honey bottle labels can withstand the conditions of your sweet honey, you can rest assured in us.
Make Your Honey Labels the BUZZ of the town!
It's time to make your custom honey label as appealing as your honey. Your consumers should be able to take one look at your honey label and start craving a sweet treat. Our state-of-the-art technology gives our customers the best honey labels on the market. Our investments in the Digital HP Indigo and our brand-new digital embellishing machine will provide you with the elegant or fun labels you're searching for. With our high-end machinery, you will have pure honey labels that will sweeten everyone's day! A few factors that play into the look of your honey labels are:
How Do I Get The Best Honey Labels?
At Sticker Mountain, we always have someone buzzing around that can help guide you in the right direction. For branding, if you have your label design ready to go, Great! You can simply upload your highest quality artwork on our website. However, if you're looking for a new logo design for your honey labels, then we have more than enough qualified graphic artists that will assist you.
To begin designing your label, have an idea of what you're selling and to who. Every touch point in the customer journey is important to getting them to make the final purchase. Make sure to measure your containers, pick out colors that best represent your company and imagery to convey quality, originality, and important nutritional information. It's also required to follow FDA guidelines on label placement and ingredients. You may also consider tamper proof labels for the lid to indicate evidence of an opened product, but can also act as a flavor name, tagline or directions to store the honey.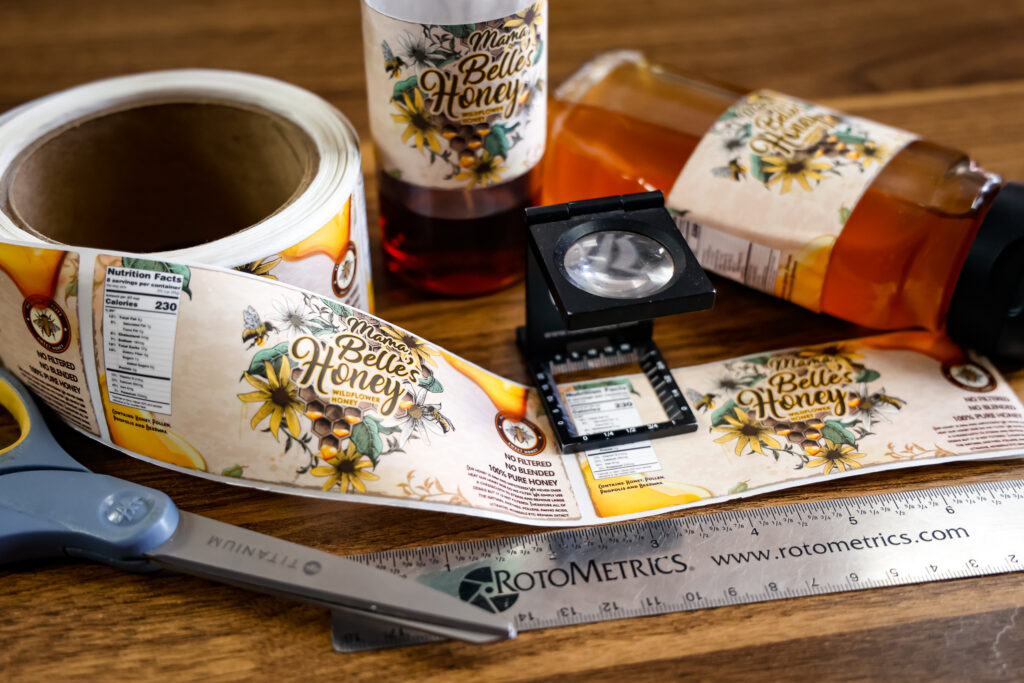 In addition to creating your design, you will determine the perfect shape and size for your honey labels. Our laser die-cutting machine can do the job regardless of your shape.
Next, you will select the material you want your honey bottle label to come in. This consists of the paper type: BOPP (white, clear or metallic), or white semi-gloss paper. Our BOPP materials are the most durable however our paper material is slightly more affordable for smaller budgets.
Finally, it is time to choose your finishing touches. Our new digital embellishing machine offers you more options, such as Raised Spot UV and Foil finishes. These give a 3D effect on your label and look shiny and smooth. Then you will choose your lamination, with either matte or gloss laminations, and our premium Soft-Touch Matte Laminate. 
At Sticker Mountain, we value our relationship with our customers and will go the extra mile to ensure your happiness and success. We provide you with one-on-one customer service and have a fast turnaround time because your time is precious. Your custom honey labels are important to us. Start your order today! If you have questions, please refer to our FAQ page, or contact us with any questions you have.
Did you know honey is the only food that contains all the substances necessary to sustain life? Including water? Wow!