Premium Distillery Labels
What In The "Ale" Do We Have Here?
What do we have? Sticker Mountain can give you an edgy new look that will outsell all of your competitors! Custom distillery labels are at an all-time high. Now is the time to strike with a brand new custom label. Create an exclusive label that displays the character of your mouthwatering product. Here at Sticker Mountain, we are more than confident in providing you with premium distillery labels.
State-Of-The-Art Technology
We can create custom beverage labels for any distilled spirit you sell. Whether it is:
Don't limit your creativity; we will take you to new levels making your custom distillery labels flawless! At Sticker Mountain, we have top experts who will consult with you and seasoned graphic artists who will make your artwork immaculate.
This is transformed through our HP Indigo digital printing presses and new digital embellishing machine. The digital embellishing machine and the HP Indigo generate top-of-the-line custom spirit labels without the added cost of printing plates. These machines also save time and money by eliminating printing set-ups, which allows us to get your spirit labels to you faster while saving money at the same time. Our embellishing machine also provides new custom label features such as Raised Spot UV and Cold Foiling with matte, gloss, or soft-touch matte finishes. 
Materials To Fit Your Needs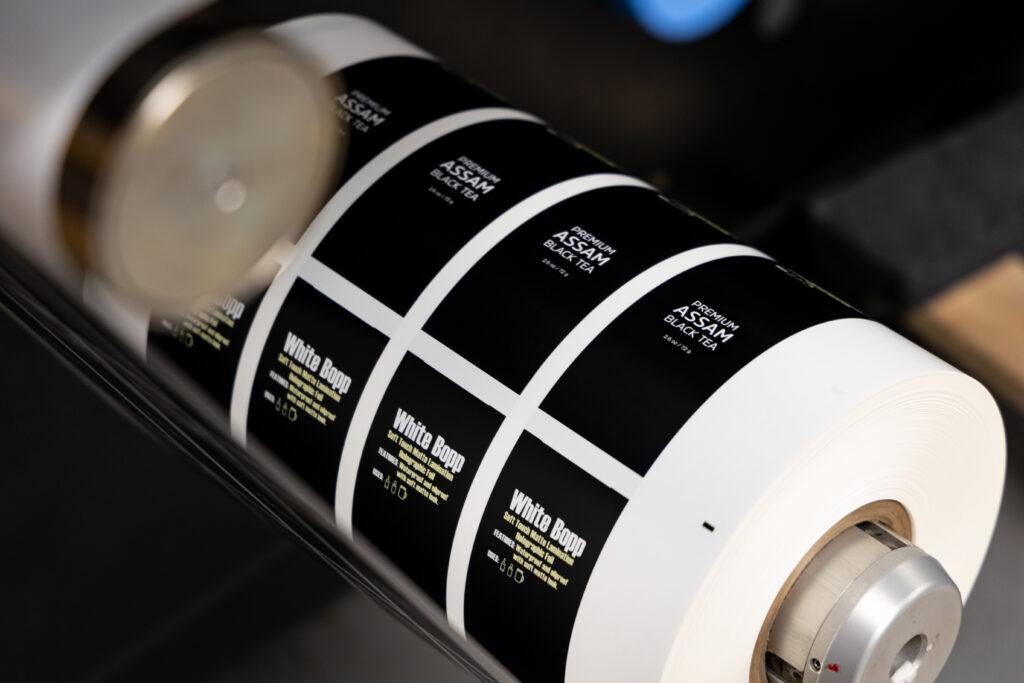 Our label company supplies you with top-of-the-line materials for your custom distillery labels. Often, material quality is overlooked or skimped on by many industries, not just distilleries. Having high-quality materials give a representation of a high-quality product. We use a highly durable, flexible, and even recyclable material called BOPP (Biaxially Oriented Polypropylene). BOPP comes in white, clear, and metallic. Sturdy materials like these have many benefits to your custom bottle labels like:
In addition to these benefits, choosing between three marvelous finishes provides label protection and diversity. First, we have a gloss laminate, leaving your spirit labels shiny, polished and vibrant. Second, a matte laminate will leave your labels looking more natural, organic and muted. Finally, we have Soft-Touch Matte Lamination, which has a similar softness as regular matte, however, it holds a velvety, smooth tactile finish that makes your spirits labels irresistibly classy.
Customizable Bottle Labels
With Sticker Mountain, your distillery label is custom to your specifications, and needs. When you're customizing your spirit bottle label, we use vibrant inks that won't bleed onto one another. Sticker Mountain provides the latest technology with Laser Cut and Digital Printing allowing your artwork to be any size, color, shape, and material you desire, finalized with a gloss or matte lamination.
If you have a great design or logo, you can conveniently upload it on our website. Suppose you need a logo or a design idea. In that case, you can leave a note in the Artwork Upload page, and our art department is on hand for excellent customer service and collaborative teamwork to give you the best spirit label possible for your brand. 
When it comes to bottle label printing, we have you covered! You choose specifics like font, the coloring of the letters, and the colors of the background on the label, etc. It's important for us to produce a spirit label that represents your brand and your story. Sticker Mountain will take your professionalism and creativity to the next level!
Did you know that moonshine could lead to blindness if it is not distilled correctly? The moonshine can end up with high levels of methanol, which is obviously toxic to the human body. From there, our bodies break down the methanol alcohol into formic acid and formaldehyde. Formic acid is dangerous for the eyes. Also, moonshine is sometimes made in old lead pipes, which creates high levels of lead in the alcohol.