5 Tips for Designing Cosmetic Labels
The cosmetic industry is growing daily. Beauty has no limits when it comes to satisfying customers. Some examples of these products include perfumes, hair products, lotions, anti-aging creams, etc. In addition, there are even products for men, such as beard oils, body washes, and hair products. What do all these products have in common? They all have labels, and designing cosmetic labels is no easy task.
The cosmetic industry is a highly competitive market. This is why making your product shine with custom labels is essential. By standing out, you're showing the customer you understand their needs and desires. Giving consumers a recognizable glimpse of your product hooks them in for future sales.
Designing cosmetic labels should be fun and not stressful.
You are putting a great brand into the world; it's your time to shine! From custom skin care labels to body care labels to make-up labels, whatever your company releases to the market, Sticker Mountain will get you the glam you need. Here are five tips for designing cosmetic labels:
Let's focus on designing cosmetic labels
Brand design is one of the most important factors when creating health and beauty labels. Your brand design will tell the customers what your product is and what makes you difference from the rest, while also making it easy for them to quickly take it from the shelf. For example, is your brand glamorous, and flashy, soft and natural, or rough and gritty? Let your branding do the selling.
2. Follow FDA Regulations
Following the FDA labeling guidelines is critical to creating your cosmetic label. If you do not label your product correctly, the FDA will deem your product unsellable, and you will have to start over. Not fun, so make sure to follow the FDA guidelines by doing your research and following instructions by referring to the FDA website. As mentioned in our last blog, here is a quick reminder of what needs to be included in your beauty label: 
A description of the product; the product's intended use
Ingredients list, starting with the ingredient with the most significant percentage present down to the smallest percent. 
The total amount of product in each container
Your business name and contact information 
Name of manufacturing and distribution center
3. Measure Cosmetic Labels
Measuring the correct shape and size for your labels is essential to look professional. Whether it is a squeeze tube, bottle, or even a jar, with Sticker Mountain, you can choose from various custom or standard shapes and sizes that fit your container best. The last thing you would want is to waste money on hundreds of labels that are the wrong size or shape. Need help measuring? Check out our blog here!
4. Choose the Right Materials
Material choice is crucial when customizing your beauty label. It all depends on the environment your product will be in and the contents of the products. Choosing water and oil-proof material for your cosmetic labels would be wise because it allows products to be used in areas with high moisture, like bathrooms. Waterproof labels are also be a great choice because if the product is oily and leaks or gets dropped in water. Oil proof labels and waterproof labels are a must-have in the cosmetic industry. And luckily, with our matte and glossy laminates, you can get waterproof labels on all your products!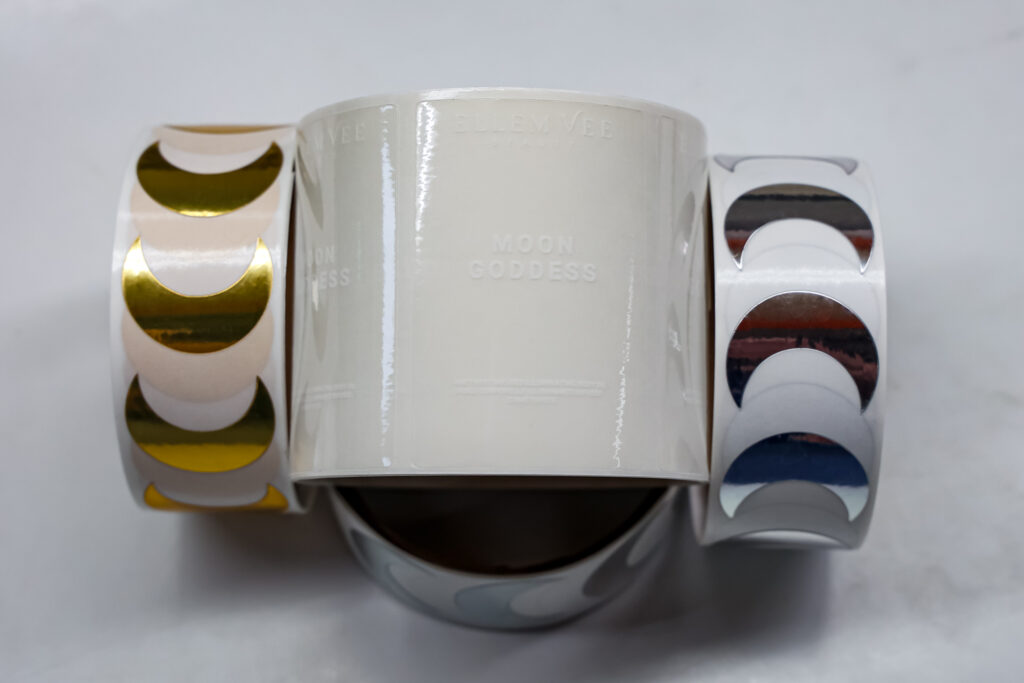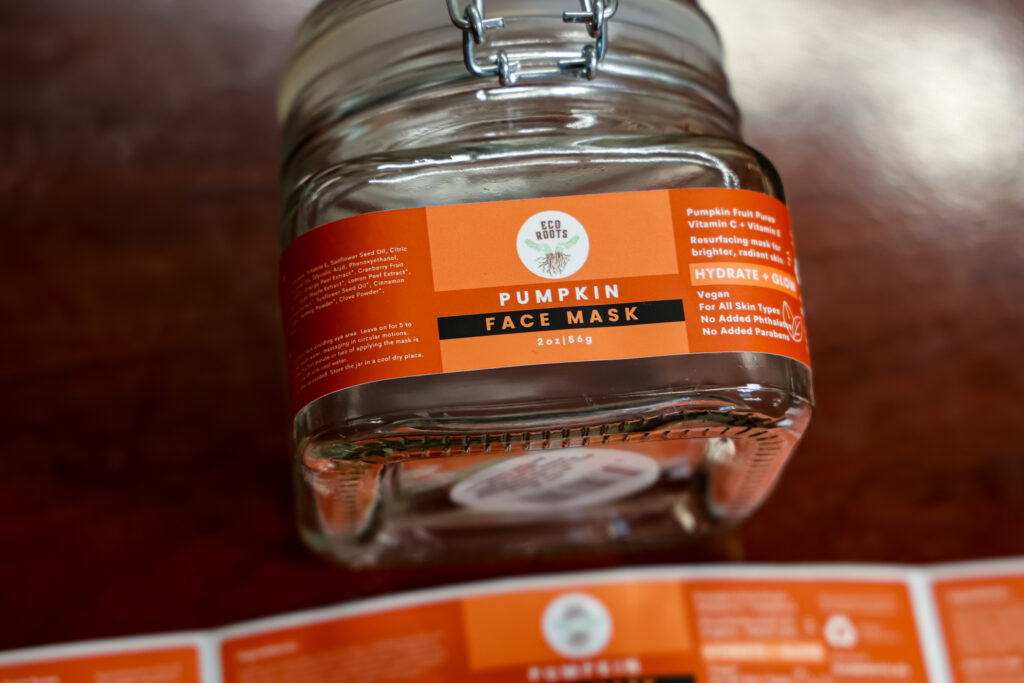 Create a budget and stick to it is crucial in any business endeavor. Spending too much in one area of the company can cause issues if you don't adhere to a budget. Luckily here at Sticker Mountain, we provide state–of–the–art digital label printing technology, which provides you with a quick turnaround time and various ordering quantities, while keeping prices low.
What do customers look for in beauty products?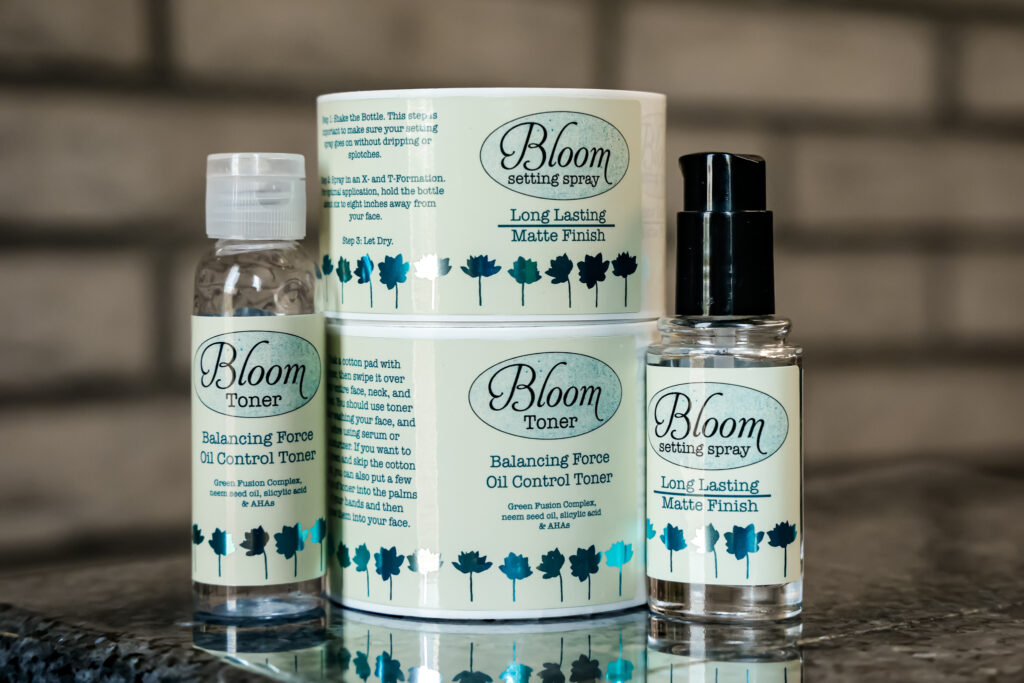 To start, there are three top subjects customers look for when shopping for cosmetic products. 
Designing cosmetic labels that catch the consumer's eye is the key to boosting sales because it draws customers to look at what your product offers. Your cosmetic label design should include differently sized fonts; mix in bold fonts for the parts you want to make sure stand out to the customer. Also, it's essential to have bright and exciting colors, or even high contrasting colors to really make them stand out. Bright and fun colors give an uplifting feel. You can even use metallic paper to give it a luxurious effect!
Consumers tend to read through the ingredients list, or at least to see if it's organic or natural. Ingredients are essential because many people have allergies and want to ensure the product is healthy and safe. Make sure to follow the FDA guidelines mentioned above to ensure your product is safe to use.
If a cosmetic product has professional packaging, meaning the labels fit nicely, doesn't peel off easily, and has a smooth touch, then the customer will deem your brand professional. Most times, when a person is shopping, they will steer clear of the products where the ink is rubbing off, or the label doesn't last the life of the product. Additionally, if the information is too hard to read because of font size or style, you may have to go back to the drawing board.
Place your cosmetic label order with Sticker Mountain!
Designing cosmetic labels and working with many different products isn't new to us. As mentioned earlier, this is the fun part! For questions, visit our FAQ page webpage, or call our top-of-the-line customer service team, who can pair you with a graphic artist to create your beauty label today! All in all, stick with Sticker Mountain. We won't let you down!
Beard Guard
BEARD GUARD is the original designer of the first-ever beard bonnet, self-made and Colorado local. Beard Guard knew their products needed a label that looked great and was built tough. Beard oils and butter can spill onto some labels losing their ability to stick, but not Sticker Mountain labels. Our labels are waterproof and meant to withstand the test of time!
Did you know that L'Oreal is the world's leading cosmetic company? L'Oreal generates more than $30 Billion in annual sales!